Debbie Tucker Green's 'Born Bad' at Soho Rep
Misani | 8/24/2011, 3:50 p.m.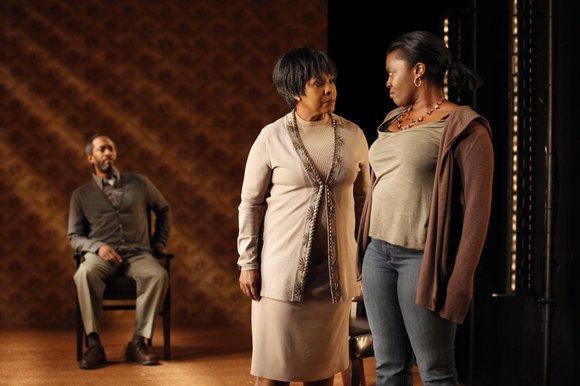 green's grueling unveiling of this family is relentless. The intermingling of Jamaican patois, Black American street lingo and standard English reflects the diverse cultural assimilation of this immigrant Caribbean-American family. green's dialogue is rich and verbose, dutty and gritty, poetic, sweet and very real. Her characters are memorable. They are people who get up every day and keep it moving, despite the darkness of their souls.
green's "Born Bad" is the long-awaited, fresh play that is sure to generate a renewed discourse as well as theater attendance by the Caribbean-American community who are dying to see themselves reflected on stage--even with such a disturbing theme as that of "Born Bad."
And with the close of the curtain, Casting Pearls presents the Casting Pearls Awards (CPA) to the entire cast of "Born Bad."
Graham, a Casting Pearls fave, is a stalwart of the stage and screen. She offers a moving, passionate depiction of the suffering of women who have been abused throughout the ages. Graham owns any role she tackles, and she certainly honors this character with tact and shrewdness, all the while wearing a face of bravado. Amongst her stage credits are "Across the Universe" and "Playboy of the West Indies." Her TV credits include "Law & Order" and a 3-and-a-half-year engagement on "Another World." I was honored to cast Graham in the role as Pras' mom in the film, "Ghetto Superstar." Bravo!
Rogers is another Casting Pearls fave who switches effortlessly between the rhythms of America and the Caribbean. Although this role called for very little dialogue, Rogers nailed his character. His actions conveyed the deep, dark torment of his soul, which he sums up so poignantly in a few words at the end of "Born Bad." Rogers' credits include "Joe Turner's Come and Gone" and "Breakfast with Mugabe" Bravo!
Simms is another Casting Pearls fave who also switches effortlessly between the cadences of the Americas. As Dawta she is a phenomenal, flawless, fearless panther searching for the truth, some of which over the years has been distorted. At the same time she is an innocent, curious young woman searching for love and acceptance. Amongst Simms' credits are "Gem of the Ocean," "A Raisin in the Sun," and "Ma Rainey's Black Bottom." Bravo!
McClain powers the role of Brother, the sensitive, damaged son who detests human contact. His depiction of sadness is vividly authentic and serves to tell the story of the sole male defiled by his father's demons. Brilliant work! Amongst his credits are "Cymbeline" and "The History Boys." Bravo!
Bernstine lightens the heaviness of "Born Bad" in her role as the amiable, somewhat daffy Sister #1, and she is simply mesmeric. She effortlessly pulls the audience into her own special world where she just can't recall anything that is too painful to remember. Bernstein is an Obie Award-winner for her role in "Ruined." Other credits include "In the Next Room" and "The Misanthrope." Bravo!
Dickinson is riveting as the no-nonsense, up-in-your-face Sister #2 who can't stand Dawta and adores her father, who she feels can do no wrong, except not notice her. Dickinson, who was brilliant in "Broke-ology," was also seen off-Broadway in "Bottom of the World." Bravo!
CPAs are also presented to the playwright. Thank you for this brilliant timely, long-awaited Caribbean-American work. Bravo! To the director, whose memorable six chairs speak volumes--bravo! And another CPA to Soho Rep for producing "Born Bad," of which Sarah Benson, the company's artistic director, passionately said, "I am thrilled to be able to share Debbie Tucker Green's extraordinary, urgent work with New York audiences." Thank you, Soho Rep and Bravo! It's time, New York! Seen. Scene.