Duane Stephenson's 'Black Gold' selected Best Buy for Black History Month
Misani | 8/24/2011, 3:53 p.m.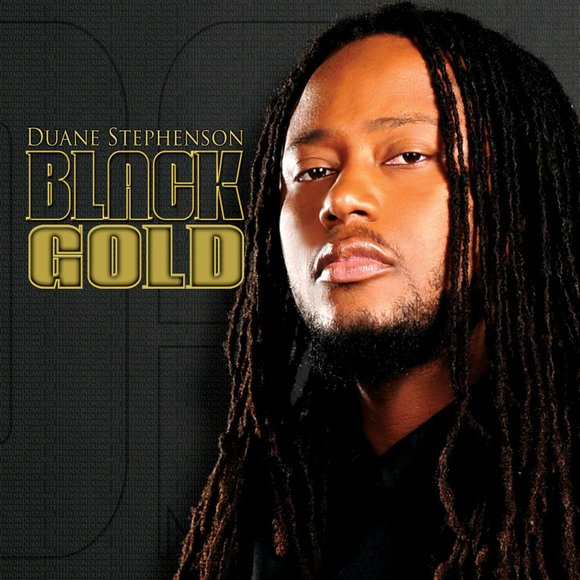 Duane Stephenson, one of reggae's most innovative young artists, pockets gold! To be precise, "Black Gold," his second album on VP Records, has been selected as a Caribbean Lingo Best Buy Choice for Black History Month.
The 14-track CD is packed with tight, memorable lyrics, most of which were written by Stephenson in collaboration with Dean Frasier, the distinguished Jamaican saxophonist, as well as other songwriters.
With a perceptive and expressive reggae soundscape, "Black Gold" offers a rich and unique assortment of lover's rock ("Suffer's Heights" and "Rescue Me," with Gramps Morgan, founder of the celebrated group Morgan Heritage), dancehall blues ("Stay at Home," with Queen Ifrica), dub/spoken word ("Truth Is," with the great spoken word legend Mutabaruka), country (" Members Only"), ballads ("Suffer's Heights" and "Woman") and spirituals ( "Jah Works").
Added to the mix are Stephenson's trademark conscious (roots) lyrics ("Cycle Goes On," "Soon as We Rise," with Ras Shiloh, and the outstanding title track). Rounding out the album are Stephenson's beautiful love songs "Deception" and "More," which offer a unique R&B feel flavored with a distinctive reggae rhythm.
The colorful Jamaican patois that flavors the track "Stay at Home" is precious and would certainly make the late Hon. Mrs. Louis Bennett smile to know that Stephenson is among this generation of artists who continue the legacy of using Jamaican dialect in their art. Ms. Lou, Jamaica's foremost folklorist, was a staunch pioneer for advocating that Jamaican patois be acknowledged and spoken as an accepted form of communication.
Stephenson was born in Kingston, Jamaica, and raised in St. Andrews' culturally rich August Town, which he immortalized on his debut album, "August Town" (VP Records, 2007). His sophomore album, "Black Gold", was released in September 2010.
Last October, after the 35-year-old singer/songwriter/guitarist/humanitarian wrote the song "A Step for Mankind" in support of the United Nation's World Food Program, which supports his message "of the need for more action in addressing the issue of world hunger," he was invited to the George McGovern Leadership Award ceremony honoring Secretary of State Hillary Clinton.
Stephenson's WFP foray opened the door for him to meet the legendary Wailers, who also lent their time and talent to the United Nation's global food program. He subsequently toured with the group in the U.S. and throughout South America.
"I'm meeting many fans for the first time," Stephenson shared. "These fans are a bit out of the scope of the traditional reggae market, working with the Wailers, and the support has been great."
Throughout February, Duane Stephenson and the Wailers' 16-city "Uprising Tour with Tomorrow's Bad Seeds" will hit the following cities: Breckenridge, Colo.; Avon, Colo.; Lincoln, Neb.; Minneapolis, Minn.; Iowa City, Iowa; Madison, Wisc.; Ann Arbor, Mich.; Bloomington, Ind.; Milwaukee; Chicago; Kent, Ohio; Killington, Vt.; Stowe, Vt.; Montreal, Quebec; Portsmouth, N.H.; and Tarrytown, N.Y.
Additional dates continue later in the spring in Lake Worth, Fla.; Steamboat Springs, Colo. and Chesapeake, Va.
Stephenson, who is currently working on a new song, with the proceeds earmarked for the WFP's largest global operation in the Sudan, shared: "What I am doing is part of a larger mandate. It is really a pleasure to do the little bit I am doing to make the world a better place for everybody. The more you can do is great," the humble Stephenson said. "It is something worthwhile."
For a very worthwhile evening, be sure to check out one of our favorite artists, Duane Stephenson, in concert on Feb. 20 with the Wailers at the Tarrytown Music Hall in Tarrytown, N.Y.
For further information about Duane Stephenson, please visit www.duanestephenson.com or www.facebook.com/DuaneStephensonMusic. To purchase the "Black Gold" and "August Town" albums, visit www.vprecords.com
To contact the "Caribbean Lingo!" series, which pays tribute to Caribbean Diaspora artists and artforms of the highest caliber, please e-mail our team at: Caribbeanlingo@gmail.com.