First Lady Mrs. Michelle Obama loves "Fela!"
BY MISANI | 8/24/2011, 3:55 p.m.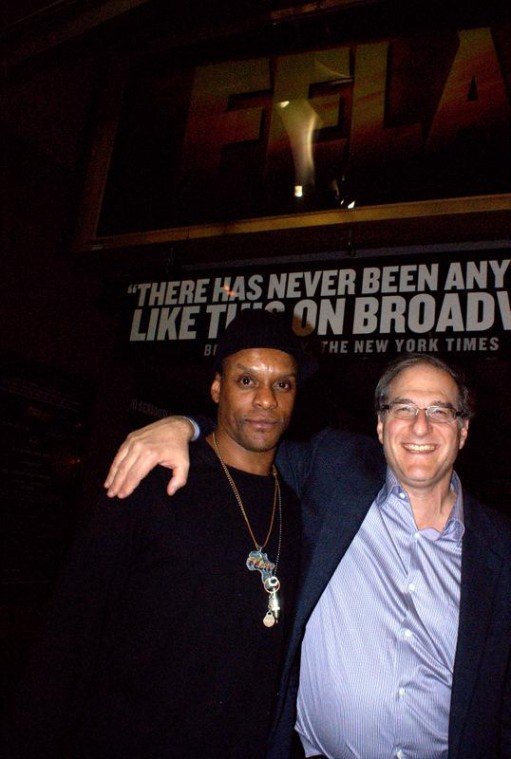 On Thursday evening, Nov. 18, Mrs. Michelle Obama, the First Lady of the United States of America attended "Fela!" the Tony-award winning hit musical, directed by Bill T. Jones, currently running at the Eugene O'Neill Theatre, 230 West 49th Street in New York City. The stunned theatre-goers at the celebrated show, produced by Steve and Ruth Hendell, Sean "Jay Z" Carter, Will Smith and Jada Pinkett-Smith, could not believe their eyes when they realized who was also going to experience the evening's show about Fela Anikulapo-Kuti, the legendary Nigerian musician, founder of the Afrobeat genre, and a staunch African political activist. Here are a few commentaries of the auspicious occasion by several members of the "Fela!" company.
Stephen Hendel, Lead Producer, "Fela!"
Stephen Hendel, the lead producer, set up the scenario of the First Lady's arrival, "The band (Antibalis) was just about done playing the overture and all of a sudden, a 10-15 person group comes down the aisles to get to their seats. She was with six friends, so there were seven of them, and there was probably two or three security people at the beginning (of the procession) and two or three security people at the end of the seven. So there's about fifteen people all of a sudden going down the aisles. When she was about a third of the way down, the people suddenly realized what was going on and there was an immediate response from the audience. It was so exciting."
Hendel then constructed the back story giving us a peak of the occurrences leading up to Mrs. Obama's visit, "About 10 days ago someone contacted me and said there was a possibility that she would attend on that day, and who should the security people be in touch with to sort everything out if that actually became a possibility. Eventually I was contacted by someone, and a couple of days later I had to turn it over to the theatre, as it became clearer that she definitely wanted to come to the play. So the Secret Service and the security personnel got involved to learn more about the environment of the theatre and the show to make sure she was protected."
Elaborating further upon the intricate details of logistics for the First Lady, Hendel revealed, "Before she came, the Secret Service and certainly the advance team had been to the theatre and seen one of two of the shows, so they knew what would be good seats for her, and they knew how the cast comes into the audience and performs, so they could figure out how that all worked and where she should come in and where she should go during intermission, and how to get her back to her seat after intermission, and how to get her out of the theatre after the show was over, so it was very carefully planned."
Commenting about Mrs. Obama's response to "Fela!" Hendel revealed, "She came with some friends... they were all women friends of hers... She seemed to love the show and she was very gracious." In fact, Mrs. Obama confirmed this when she met Hendel, who shared, "Ruthie (Ruth Hendel) and I met her during intermission and she told us how much she loved the show and the band, she was really gracious with the cast," he said. "In that scene she was standing and clapping - you know as part of the standing ovation. And each cast member as they went through the aisles, she spoke to each cast member, and hugged them. She spent a lot of time with Patti LaBelle (who plays Fela's mother, Funmilayo) who she knows. She spent high quality time with Kevin Mambo (the star of "Fela!") and she was hugging the cast and smiling and talking to the cast and she stayed until the last cast member went by so that she was able to greet every single performer and then she left the theatre."
Lauren De Veaux, "Fela!" Ensemble
What did that experience feel like to the cast? Ensemble member Lauren De Veaux, who's rightfully dubbed, "the cultural ambassador" shared, "There are 3 moments I'll never forget about Mrs. Michelle Obama's visit. The first was the roar from the audience as she entered the theatre to take her seat. I had only heard the audience react this way when someone of great influence has attended the show, such as Oprah Winfrey. People were yelling, 'We love you Michelle! We love the President!' It was absolutely electrifying."
Commenting on the mention of "The Black President" in the musical, De Veaux shared, "The second (moment) was the thunderous applause from the audience when the words "Black President" flashed across the screen in reference to Fela's declaration and the name of his album."
Zeroing in on the First Lady's genuine warmth and loving spirit, De Veaux revealed, "The third moment was when twenty Secret Service agents whisked her through the backstage door at intermission. We were waiting for them to pass and she ran over to us like a long lost friend. She was completely excited about us and for us. She hugged us and told us how much she loves us - even while we're dripping in sweat. She is even more beautiful in person," De Veaux marveled. "It was an absolute honor to perform for her and a great reminder of how Fela's message is relevant for our day and time." In closing, she quoted one of Fela Anikulapo-Kuti's mantras. "Music is the weapon."
Jeffrey Page, "Fela!" Ensemble
Commenting on the reception Mrs. Obama received upon entering, Jeffrey Page, a member of the "Fela!" ensemble, shared, "The overwhelming feeling of connectedness, love and encouragement that was amassed by the audience as Mrs. Obama made her entrance through the house toward her seat was magical. As a performer on stage watching this special moment unfold, I told myself to hold on to this particular memory and feeling - while trying desperately to maintain my character and composer amongst such a thunderous welcome by the audience."
Relative to Mrs. Obama's engagement and encouragement, Page said, "She appeared fully engaged during the show and participated as any audience member would in this profound theatrical work. Normally when we have guests with such influential public stature they tend to leave at the beginning of curtain call, to avoid added commotion and delay. I was moved that Mrs. Obama actually stayed to partake in the encore, graciously greeting the entire cast. This was a glorious evening for me. It seemed as if all of us were simply human, sharing in a beautiful human experience. For this singular moment we were not struggling artist, wealthy businessmen, nor high profile political figures - we were just human sharing a moment as one. The power of art is amazing and as vibrant as ever, this is a memory I plan to hold on to!"
Oneika Phillips, Swing / Sandra / Funmilayo / Understudy
In describing Mrs. Obama, ensemble member, Oneika Phillips said, "I teared up a little from the euphoria! Her smile is infectious. She's everything they say she is: statuesque, warm, BEAUTIFUL!... Mrs. Obama danced in her seat, smiling and taking it all in."
On coming face to face with Mrs. Obama, Phillips shared, "At intermission we exited the stage and were immediately faced with the Secret Service. They were whisking Michelle up to the Stage Manager's office. But get this - as we waited she came through the door from the house, she broke her line and came happily and giddily trotting over to us. Lauren (De Veaux), Aimee (Graham Wodobode), and I were first of the group and we had intended on being on our best behavior and saying quietly, 'Thank you for coming Mrs. President.' But there she was with her gleaming smile, arms extended looking like she was going to break into her own dance! And she hugged us! As many of us as she could get to! And she said, 'Oh my goodness, you guys are amazing! Just amazing!' Can you imagine!? She was gushing...and so were we!"
"Fela!" Count Down to Broadway Closing
The count down is on, New York! "Fela!" which celebrated its one-year anniversary on Oct. 23, will close on Broadway on January 2, 2011. Please don't say I did not tell you! Be like Mrs. Obama and go and see "Fela!" now. Order your tickets today! Visit felaonbroadway.com/tickets.php And tell your friends in London to go see the "Fela!"
To contact the Africa Sings!!! Group please email: africasings@gmail.com