First Lady Mrs. Michelle Obama loves "Fela!"
BY MISANI | 8/24/2011, 3:55 p.m.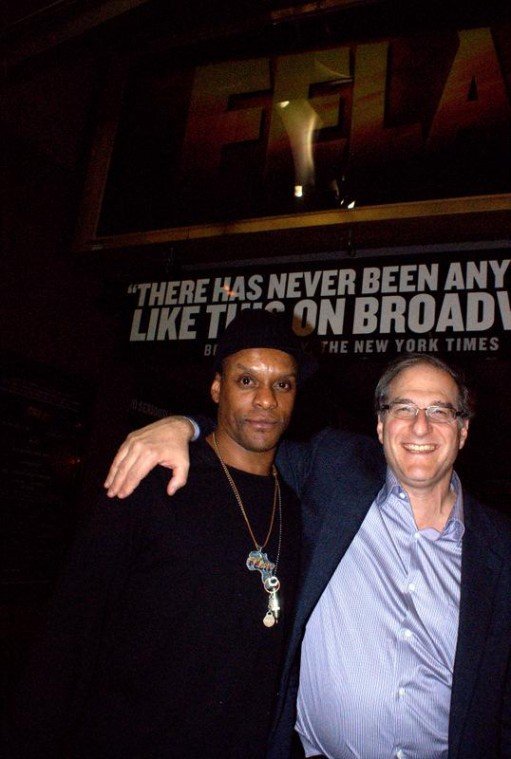 Lauren De Veaux, "Fela!" Ensemble
What did that experience feel like to the cast? Ensemble member Lauren De Veaux, who's rightfully dubbed, "the cultural ambassador" shared, "There are 3 moments I'll never forget about Mrs. Michelle Obama's visit. The first was the roar from the audience as she entered the theatre to take her seat. I had only heard the audience react this way when someone of great influence has attended the show, such as Oprah Winfrey. People were yelling, 'We love you Michelle! We love the President!' It was absolutely electrifying."
Commenting on the mention of "The Black President" in the musical, De Veaux shared, "The second (moment) was the thunderous applause from the audience when the words "Black President" flashed across the screen in reference to Fela's declaration and the name of his album."
Zeroing in on the First Lady's genuine warmth and loving spirit, De Veaux revealed, "The third moment was when twenty Secret Service agents whisked her through the backstage door at intermission. We were waiting for them to pass and she ran over to us like a long lost friend. She was completely excited about us and for us. She hugged us and told us how much she loves us - even while we're dripping in sweat. She is even more beautiful in person," De Veaux marveled. "It was an absolute honor to perform for her and a great reminder of how Fela's message is relevant for our day and time." In closing, she quoted one of Fela Anikulapo-Kuti's mantras. "Music is the weapon."
Jeffrey Page, "Fela!" Ensemble
Commenting on the reception Mrs. Obama received upon entering, Jeffrey Page, a member of the "Fela!" ensemble, shared, "The overwhelming feeling of connectedness, love and encouragement that was amassed by the audience as Mrs. Obama made her entrance through the house toward her seat was magical. As a performer on stage watching this special moment unfold, I told myself to hold on to this particular memory and feeling - while trying desperately to maintain my character and composer amongst such a thunderous welcome by the audience."
Relative to Mrs. Obama's engagement and encouragement, Page said, "She appeared fully engaged during the show and participated as any audience member would in this profound theatrical work. Normally when we have guests with such influential public stature they tend to leave at the beginning of curtain call, to avoid added commotion and delay. I was moved that Mrs. Obama actually stayed to partake in the encore, graciously greeting the entire cast. This was a glorious evening for me. It seemed as if all of us were simply human, sharing in a beautiful human experience. For this singular moment we were not struggling artist, wealthy businessmen, nor high profile political figures - we were just human sharing a moment as one. The power of art is amazing and as vibrant as ever, this is a memory I plan to hold on to!"