First Lady Mrs. Michelle Obama loves "Fela!"
BY MISANI | 8/24/2011, 3:55 p.m.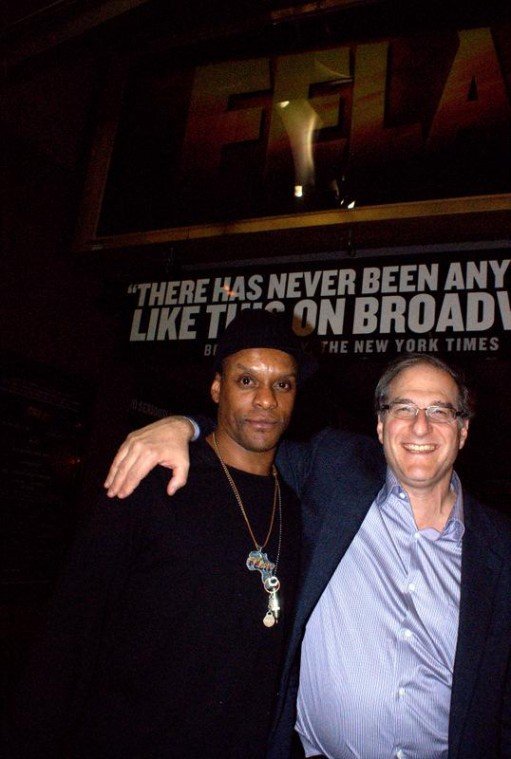 In describing Mrs. Obama, ensemble member, Oneika Phillips said, "I teared up a little from the euphoria! Her smile is infectious. She's everything they say she is: statuesque, warm, BEAUTIFUL!... Mrs. Obama danced in her seat, smiling and taking it all in."
On coming face to face with Mrs. Obama, Phillips shared, "At intermission we exited the stage and were immediately faced with the Secret Service. They were whisking Michelle up to the Stage Manager's office. But get this - as we waited she came through the door from the house, she broke her line and came happily and giddily trotting over to us. Lauren (De Veaux), Aimee (Graham Wodobode), and I were first of the group and we had intended on being on our best behavior and saying quietly, 'Thank you for coming Mrs. President.' But there she was with her gleaming smile, arms extended looking like she was going to break into her own dance! And she hugged us! As many of us as she could get to! And she said, 'Oh my goodness, you guys are amazing! Just amazing!' Can you imagine!? She was gushing...and so were we!"
"Fela!" Count Down to Broadway Closing
The count down is on, New York! "Fela!" which celebrated its one-year anniversary on Oct. 23, will close on Broadway on January 2, 2011. Please don't say I did not tell you! Be like Mrs. Obama and go and see "Fela!" now. Order your tickets today! Visit felaonbroadway.com/tickets.php And tell your friends in London to go see the "Fela!"
To contact the Africa Sings!!! Group please email: africasings@gmail.com