Geoffrey Holder choreographs great moves for ICAD Film Salon Series
Misani | 8/24/2011, 3:56 p.m.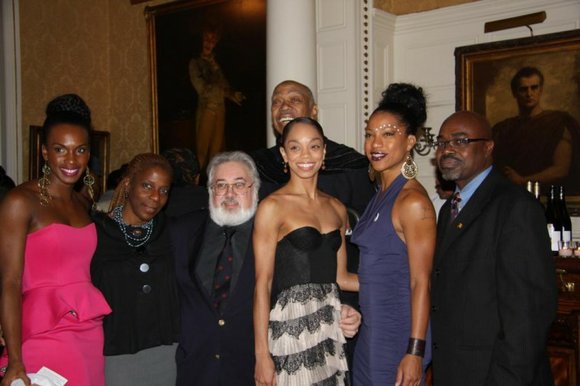 Narine's credits include 14 documentaries that form a significant and unparalleled collection of festival films and made-for-television programs. Amongst them are "Masquerade," "Streets of Colour," "The Minshall Trilogy," "Danse Trinidad," "Mas Fever," "Soca Nation," "King of Carnival" and "Panorama, Festival of Pans."
The brilliant, yet humble Narine was elated at the gathering that commenced in the central parlor of the Players and flowed out to the outer sitting room to the right, as well as to the large screening room to the left. In addition to Holder and Martello, he was enthusiastically congratulated by the special celebrity guests from "Fela!" The talented Caribbean beauties Nicole Chantal de Weever, Elasea Douglas and Oneika Phillips warmly embraced and applauded Narine and posed for photos with him.
The Grenadian stunner Oneika was surprised by her consul general, the Honorable Derek James of the Consulate of Grenada. After James read a piece that I wrote about the triple-threat talent in the NY Amsterdam News suggesting that Oneika be considered as a celebrity ambassador for Grenada, he stopped by upon my request. Judging from his reaction, he got it! A follow-up meeting is being scheduled between the two charismatic Grenadians for further discussion, to which I have also been invited.
Not to be left out, the fabulous, Aruban-born Pearl Baeina, a dynamic photographer with Grenadian ties who recently returned from living in Switzerland, was heartily greeted by the consul general. Another Aruban, the wonderful and popular Ingrid Charles, was also on the scene.
Our other special guest, Jean Alexander, received the International Caribbean American Diaspora Film Theatre & Literary Festival Geoffrey Holder Trinity Awards' Guiding Light for her exemplary role as a leader in the Caribbean community. Alexander is the executive director of the Caribbean Center of New York as well as a board member of the 43-year-old West Indian American Day Carnival Association.
The packed room also included the prominent Trinidadian poet Mervyn Taylor, who is featured in "MAS MAN"; Leon and Brenda Denmark; Sandra Bell; Anthony Alexander and his guests from London; Joan Bogle; Mahen Bonetti, executive director, African Film Festival; Hollis King; Don Padgett; Michael Graves; Thelma Armstrong; Andrea Flynn; Myrna Long; Rosa Billingslea; Hakim Mutlaq; Joyce Stewart; Donna Charles; Archbishop Dr. Ereline Eastman Simmons; Brian Adams of the Daily News and so many more. (Forgive me, as space is limited.) Everyone enjoyed "MAS MAN." Narine's brilliant, animated Q&A was an insightful and very special one, which was augmented by Holder, who joined him to discuss a variety of interesting themes.
Sponsors for the event included the Tony Award-winning musical "Fela!" along with Tower Isles Patties (thank you, Mr. Jolly and Trevor Smith); Madame Rinella Harty-Bolt; and Mario Douge, CEO of Cafe St. Germaine, and his manager, Ed Ohin. Our very special founding sponsor was the Martinique Promotions Bureau team, which included Jessica, Justine, Christal, and Valerie, headed by Muriel Wiltord, director of the Americas.
Special thanks to videographer Kenneth Spildren, photographers Pearl Baeni and Melina Marie Greene, and all our board members, especially Zakiyyah Ali and M. Pam Miller. Our appreciation also to the following "MAS MAN" gentlemen for lending their names to the event: Trinidad & Tobago Consulate General Dr. Harold Robertson, State Sen. Bill Perkins and Stephen Hendel, producer of "Fela!"
The International Caribbean American Diaspora Film Theatre and Literary Festival thanks everyone for their support. Great appreciation and acknowledgements go to the two wonderful magicians: the clever, funny and gracious Mr. John Martello and our dear friend, the inimitable Mr. Geoffrey Holder.
The "Caribbean Lingo!" series pays tribute to Caribbean Diaspora artists and art forms of the highest caliber. To contact us, please e-mail our team at Caribbeanlingo@gmail.com.