'HappySad' makes history in Tobago; has NY premiere at Riverside's ADFF
Misani | 8/24/2011, 4:01 p.m.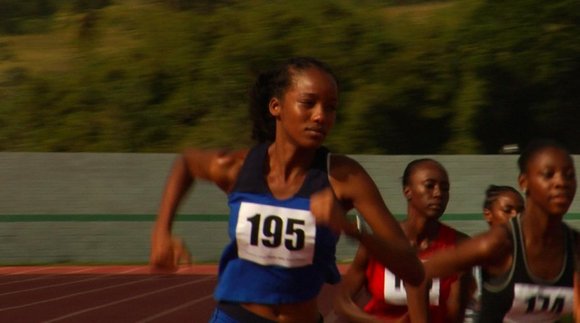 Talk about an enchanting Caribbean Diaspora story. It's "HappySad" (2008, Trinidad & Tobago, 105 mins.). And it could only happen in Tobago, the serene sister island of Trinidad, which together comprises The Republic of Trinidad & Tobago (T&T). Located northeast of Venezuela between the Atlantic Ocean and the Caribbean Sea, Tobago is the ideal location to shoot a film.
Well, that's what happened when the Trinidadian screenwriter Horace Wilson; the Emmy Award-nominated director Dianah Roneyah Wynter, who was born and raised in Brooklyn to Jamaican parents; and Tobagonian producer Rudill Clarke of the Caribbean American Film Production Co. Ltd., got together. And it was magic!
Adding to the mix was the Hon. Tracey Davidson-Celestine, secretary of community, development and culture for the Tobago House of Assembly, whose mission, in part, is "preserving, promoting and appreciating our unique cultural traditions in the global environment." This collaborative group joined forces to make "Happy/Sad," the first feature-length film made on the 116-square-mile island.
They continued to make history when the film, which Wynter shot in two weeks at a cost of $1 million (T&T), premiered on May 10 at the newly constructed Movie Towne, the first cinema house in Tobago.
On Friday, August 20, "HappySad" had its New York premiere as the opening night film of the fifth annual African Diaspora Film Festival (ADFF) Summer Film Series. Helmed by AFFF's Reinaldo Barroso-Spech, president/co-director, and Diarah N'Daw-Spech, general manager/co-director, the theme of the two-week series is "Films by and about Women." This mini-cycle, which runs through two weekends, ending on Sunday, August 29, is a co-production with the Riverside Theatre, which is celebrating its 50th anniversary this year.
Prior to the ADFF screening, "Happy/Sad" made its world and U.S. premiere at the 17th annual Pan-African Film and Arts Festival, where it won Special Jury Honorable Mention for "Best Narrative Feature." Bill Duke, the distinguished Hollywood producer-director, said of Wynter's direction, "She allowed the audience to care about the characters. It was touching, painful and intelligent. I would recommend 'HappySad' to anyone who has a chance to view it."
Throughout the ADFF screening, the audience was totally engaged and visibly moved as the story unfolded innocently during the first few seconds before being brusquely disrupted and replaced with a new configuration in the life of Mandy Graham (Angel Ross), a 17-year-old high school soccer player who narrates of the story. After her mother is sent to prison, Mandy has no choice but to leave the familiar city life in Trinidad and live with her heretofore unknown father on the slower-paced island of Tobago. However, upon her initial meeting with her father, she is dropped off at his uncle's home.
Cephas (Bill Cobbs), the great-uncle who has lived in America, owns a lovely house that he shares with his sister (Eastlyn McKenzie), who is called Grandma by his teenage son and daughter. They have little in common with their father because of the vast age divide. In addition, Cephas has a thing for young women and feels he can have and fulfill them. Of course, something's got to give. And it does.