'HappySad' makes history in Tobago; has NY premiere at Riverside's ADFF
Misani | 8/24/2011, 4:01 p.m.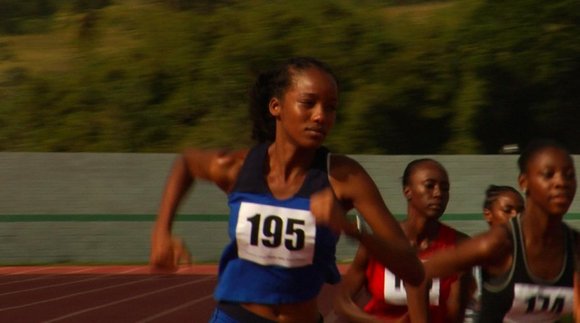 The much-beloved, internationally acclaimed actor Bill Cobbs is well cast in the role of Cephas. He kept the women at the ADFF screening sucking their teeth, giving him advice as well as laughing. Yes, this well-written, brilliantly directed and acted character is a piece of work--one who many of us will recognize. Yet, as we get to know him, we find out why he behaves the way he does. Like so many men who have been hurt, they mask their pain with women and alcohol, never getting to the root of the problem to work through and exorcise it. Wynter and Cobbs do a superb job in working through to the metamorphosis of this character.
Cobbs, the sole American actor, is joined by a strong group of veteran Trinidadian actors as well as newcomers from the Tobago Theatre School. In addition to McKenzie in the role of role of Grandma, the other characters in this tight ensemble are: Roma (Eunice Alleyne), Ray (Nigel Auguste), Dean (Duane Dixon), Lisa (Samara Lallo), Irene (Lourie Leesing) and the security guard (Wayne Leesing). Both Mckenzie and Alleyne are seasoned, top actresses in T&T who are widely known and respected throughout the Caribbean.
The leading role of Mandy is a break-out role for Ross, who does an outstanding job as an angry, distrustful teen who finds it challenging to get too close to people, especially the opposite sex. Having seen the challenges of life that have landed her mother in prison, Mandy is determined to procure a scholarship to college. To do so, she's chosen her talent as an athlete to propel her toward her goal, first playing soccer in Trinidad, then running track in Tobago.
Again, Wilson's writing richly comes to fore. His choice of using racing as a metaphor for Mandy is on point for, in fact, this young woman is racing for her life. The character of the female track and field coach is also on point. With Mandy's mother incarcerated, the astute screenwriter has surrounded her with two strong women--grandma and her coach--who, without verbalizing it, has become her mentor.
Another form of support that the writer created is multi-generational, extended family that which Mandy finds herself in for the first time. It's a situation that is somewhat challenging to the only child/loner. In addition to her father and great-uncle, her life now includes a musician/wannabe boyfriend and her male and female cousins.
One of the underlying themes of this film is that of secrets. Everyone in this story is haunted by a secret, which as Wynter pointed out the post-screening discussion, is very Caribbean in nature. The interesting thing is that these secrets are universal things that have happened to many people. Yet, part of the Caribbean upbringing is to not discuss them. Amongst the disturbing secrets of the film are child abuse, incest, rape , abuse, teen-age pregnancy, sexism and honor. On the other hand, what is considered cool to discuss is being macho and a womanizer. And this, too, is a real-life part of the Caribbean culture.