Just give us the game back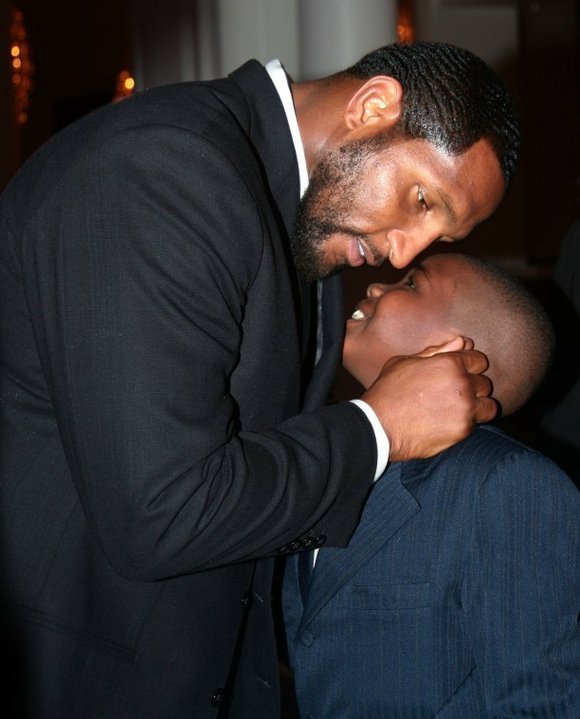 Working in tandem with the charitable component is the educational aspect of the program. As veteran sports figures, the organization's members are well versed in the trappings that go along with the riches younger athletes are blessed with.
"A lot of people are not going to like us, but so what. A lot of people are getting paid that shouldn't be getting paid, and we're going to expose them. We plan to educate young athletes as well as their parents about what questions they should ask, how to run background checks, etc. We also will teach them about being responsible. You're a top 2 percent earner in the world-of course there will be some self-indulgence. But you can't drive all those cars. You can't live in all those houses. We give so much of our power away. Those wasted funds can go back into our communities," Howard concludes.
Now my Sundays will have a different viewpoint.
Also this weekend, the memory of two powerful brothers are being recognized.
The USTA's Arthur Ashe Kids' Day presented by Hess kick-off ceremony is Saturday, Aug. 27 from 9:30 a.m. to 4 p.m. Families can experience an exciting schedule of free tennis games, live music and attractions taking place all over the grounds of the USTA Billie Jean King National Tennis Center. Appearing this year will be Diggy Simmons, and Carmelo Anthony and his wife La La will serve as co-hosts. Stadium show tickets are on sale now through Ticketmaster (1-866-OPEN-TIX), usopen.org and the Billie Jean King National Tennis Center box office.
Then there's the BIG one. The Martin Luther King Jr. Memorial Dedication in Washington, D.C. If you can't attend, TV One will offer live coverage from 9 a.m. to 1 p.m., anchored by TV One's "Washington Watch with Roland Martin" host and managing editor Roland Martin along with Sirius XM radio host Joe Madison and Art Fennell, executive producer and host of "Art Fennell Reports" on the Comcast Network.
TV One's coverage will include the best of the pre-dedication concert, expected to include performances by Mary Mary; the Ebenezer Baptist Church Choir; the Richard Smallwood Choir with Vanessa Williams; the Morehouse College Glee Club; Mary Chapin Carpenter; Mary Gurley (who sang at Dr. King's funeral service); Bernice Johnson Reagon; Ann Nesby; hip-hop violinist Miri Ben-Ari; and Poemcees; plus excerpts from Dr. King's "I've Been to the Mountaintop" speech delivered the day before he was assassinated.
The lineup will also include coverage of the week's events, including the Civil Rights Pioneers Luncheon, the Message in the Music concert of civil rights era music, the Women Who Dare to Dream luncheon, honoring female civil rights leaders, and the Celebration Dream gala. In addition, TV One will feature interviews with civil rights leaders and other celebrities taped during the week's events, plus live interviews with visiting dignitaries, celebrities and special guests onsite. TV One's live coverage will conclude with the formal dedication ceremony with expected participation by President Barack Obama.
What makes this even better is that TV One is now available to Cablevision customers.
I'm out. Hope your weekend will be solid as a rock! Peace, Nicholas Ashford. Holla next week. 'Til then, enjoy the nightlife.