SummerStage delivers love to New York City with Hugh Masekela, Freshly Ground and Somi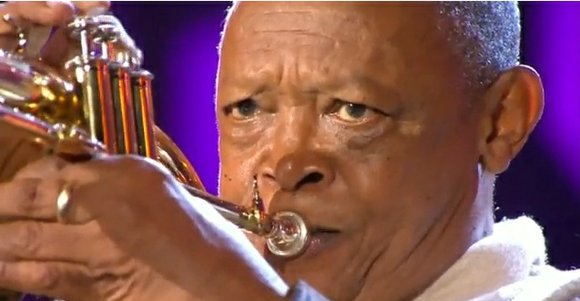 M: Would you comment about all the fabulous people at the concert?
CTD: It was such a good time, and then to see all the people...seeing what New York is noted for and seeing the wonderful cross-section of the population of New York was great, and [there were] all ages, from little children to the elderly. It was very heartening to see the area for the disabled...It made them very comfortable and [they] treated them with tremendous deference. I could see on the faces of all those patrons who were disabled that they were respected and enjoying themselves, and particularly that they had not been forgotten. It was a very, very enjoyable day for me...here at the kickoff for the summer performance season.
M: And the sponsors. Did you see the canopies with the different sponsors?
CTD: I saw some of them. I remember the JetBlue one and I saw a couple of others, but by the time I was focusing on them, the crowd had gotten so large that they were standing up at that point. (Laughter) It was standing-room-only at a SummerStage.
M: And your thoughts about the environment. The foliage. The greenery...
CTD: We were blessed with a very beautiful summer day. Not too hot. Very little humidity. I think just being around nature in Central Park was an amazing moment, and what really was fascinating is that...the number of butterflies that were flying around and that were landing on people and staying there for minutes at a time...it was a peaceful place and so relaxing.
We'll continue next week with Part 2, featuring Clinton Turner Davis' review of SummerStage's Hugh Masekela, Freshly Ground and Somi concert.