Tribute to artist Romare Bearden at the Met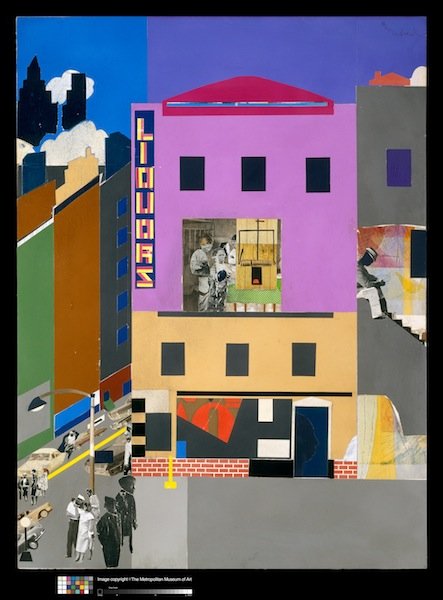 On the occasion of the 100th anniversary of the birth of Romare Bearden, the Metropolitan Museum of Art will display Bearden's "The Block," a six-panel tableau that portrays one city block of the neighborhood that nurtured his career. The exhibit, "Romare Barden (1911-1988): A Centennial Celebration," will be on view at the Met from Aug. 30 to Jan. 2. The show is part of a multi-city tribute to the life and work of this great American artist.
Bearden's embrace of an unusual medium-paper collage-set him apart as an artist. Jazzy, syncopated compositions, made with found materials such as magazines clippings, old photographs and colorful papers, elevated the medium to a major art form and mode of storytelling.
In "The Block" (1971), Bearden used collage to present a montage of images in shifting scales and perspectives that alternate between fantasy and reality. It is a world that is at once eminently recognizable and wholly unique. "The Block" depicts Lenox Avenue between 132nd and 133rd streets in New York City's Harlem.
Bearden created a colorful scene filled with human activity, much of it taking place on the street. Churches, stores and apartment buildings provide the backdrop for various stories. The scene also includes a funeral, children playing, a homeless man sleeping and groups of teens and seniors socializing on the sidewalk. What goes on behind the closed doors is revealed through windows and cut-away looks through the walls that Bearden called "look-ins."
Born in North Carolina on Sept. 2, 1911, Bearden spent much of his youth in New York City. That's where his parents came to know the leading figures of the Harlem Renaissance, including the poet Langston Hughes, the musician Duke Ellington, the artist Aaron Douglas and the social reformer W.E.B. Du Bois.
In the 1930s, Bearden himself became active in several artists' groups in Harlem. By the 1960s, he was a central figure in the cultural life of the community with a growing national reputation. He helped found the Studio Museum in Harlem; the Spiral group, a group of artists supporting the Civil Rights Movement; and the Cinque Gallery, a venue for emerging artists. Respected as an artist, orator, author and social activist, Bearden mentored many young people seeking opportunities in the arts.
Bearden's images are both simple and complex and are layered with meanings that can be inferred from his references to other art and cultures, including Renaissance painting, modern art, African tribal sculpture, and Christian iconography. In 1977, his friend, the novelist Ralph Ellison, wrote that Bearden's collages created "a place composed of visual puns and artistic allusions...where the sacred and the profane, reality and dream, are ambiguously mingled."
"The Block" will also be featured at www.metmuseum.org.