Williamsburg on the edge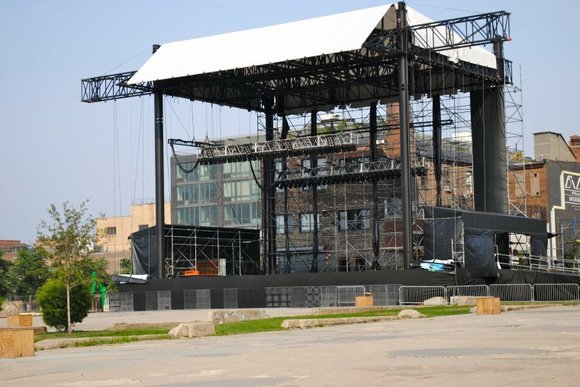 For those who rode the L train a few years back, you were more likely than not to go to the 14th Street, Broadway Junction or Eighth Avenue stops. Most skipped the Grand, Bedford or Morgan stations because, for the young or edgy, there was little there to do or see.
For the most part there was only a trickle of passengers coming out of these stations, many of whom were the elderly inhabitants that had always been a part of the neighborhood and its landscape.
But now, as you ride the L through Brooklyn, there are masses getting out at these stops, and many of them are young folks or young families. Why are people stopping at these Williamsburg stops all of a sudden?
This once invisible part of Brooklyn is now making noise and ringing bells like the city's more notable neighbors, Bed-Stuy, Fort Greene, Harlem and Soho.
Williamsburg can be broken up into two main parts: East Williamsburg, inspired by the urbanized Black and Latino-dominated hip-hop culture, and the North Side, which is under the "hipster influence." Most AmNews readers are, of course, familiar with hip-hop culture, but may be a bit less familiar with the hipsters, who like to see themselves as art-savvy and are twenty- and thirty-somethings-often white-who sport vintage outfits usually acquired at thrift stores. This is opposed to the modern styles sported by people of color seen more on the east side.
At East Williamsburg's epicenter are Grand Street and Graham Avenue, "The Avenue of "Puerto Rico," the shopping strips of Williamsburg. There, one can find anything from clothing inspired by hip-hop culture to piraguas, a classic Puerto Rican icy consisting of shaved ice and flavored syrups.
A must-have if you've never tried it is creme flavor. For those of you not too confident with your Spanish, just say "the brown one." However, the syrup is not the only thing filled with flavor. The whole avenue is filled with the lively spirit of a tropical island, from salsa music blasting on the street corners to the minister filling the air with repetitions of "Vaya con dios" and "Dios te bendiga." The avenue also doubles as a hotspot for sporadic festivals, parades and markets.
As this AmNews reporter walked down a street in the neighborhood recently, a Williamsburg local shared, "There's a certain essence about Graham [Street] that makes it stand out in Williamsburg. Memories can be made on that street to last a lifetime...You can find almost anything there. If you need something to eat, there's a few restaurants and Danny's Pizzeria. If you need clothes at usually reasonable prices, there are numerous outlets. Graham has always been like the global bazaar of Williamsburg."
Traveling down Graham, you are bound to cross Grand Street. This particular street shines at night, lighting up with blinking signs attempting to attract more patrons to their bar than the next.
As you make your way from the east side to the north, you will pass the Brooklyn-Queens Expressway (BQE). Be sure not to miss the graffiti murals and colorful displays of astounding art that make wandering through Williamsburg a spectacle all its own.