Williamsburg on the edge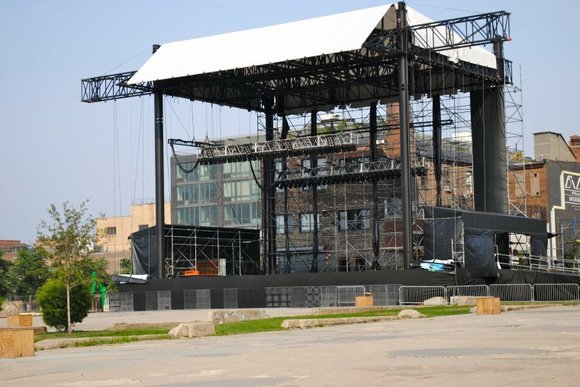 Under the expressway is one of the hottest skate spots in Brooklyn. One skater, Johnathan, who travels there from Queens just to skate these spots, said "[The BQE] is a do- it-yourself spot built by people who have the burn for a new spot."
Just two blocks past is a relatively new skate park, and adjacent to that is McCarren Park, which acts as a spot for both subcultures to merge and interact with one another. On Wednesdays you can see B-boys from both sides of the spectrum, hipsters and hip-hop heads, top rocking and holding ciphers, showing off their skills. On weekends, you can sit on the grass and watch full-fledged soccer games or enjoy a family picnic. For the athletes, there is a track and activities ranging from basketball to bocce.
Often referred to as Greenpoint, though the border is so blurred it is often all encompassed under Williamsburg, the main strip here is Bedford Avenue, which is full of creativity and artists. This area has its own shopping district, consisting of mostly thrift stores. These stores have lots of cool, unique clothing for those who wish to look good without breaking the bank. Also located on the avenue, between North Fourth and Fifth streets is the Bedford mini-mall, which has bookstores whose shelves hold genres ranging from Shakespeare to the history of graffiti. Other stores there sell odd-looking knickknacks and toys created by notorious graffiti artists.
If this all sounds too socially clustered, too urbane for you, you can visit the Williamsburg waterfront. Head down North 11th as you approach Kent Street, and you'll again find yourself near another haven for skaters called KCDC. This store sells all of the skater brands you can think of and even has its own half-pipe inside.
Not a skater? No worries-the merchandise is for all and you can still enjoy watching anyone shredding the pipe from the sidelines. After window shopping at KCDC and maybe even meeting one of your favorite skaters, get back to your walk to the waterfront.
This site is the perfect place to get away from society and the hustle and bustle of modern city life. Take a date there to enjoy the weather and the amazing view. In the background is the iconic Manhattan skyline, and you might stumble upon a free outdoor movie or concert. The waterfront has welcomed big names such as Kid Cudi, Nas, Damien Marley and Weezer. If loud music isn't your scene, you can travel over the East River via ferry along the outskirts of Williamsburg.
Relatively close by is the Williamsburg Bridge. It serves the people as a mode of transportation, a way to exercise and a sanctum for street art. The view is amazing and the walk is peaceful, serving as the perfect embodiment of Williamsburg itself. Williamsburg is a neighborhood full of art and diversity. It can inspire anyone, from the common person to aspiring artists, and definitely deserves the throngs of people now rushing off the train to its many wonders.