Discover a taste of Texas Hill Country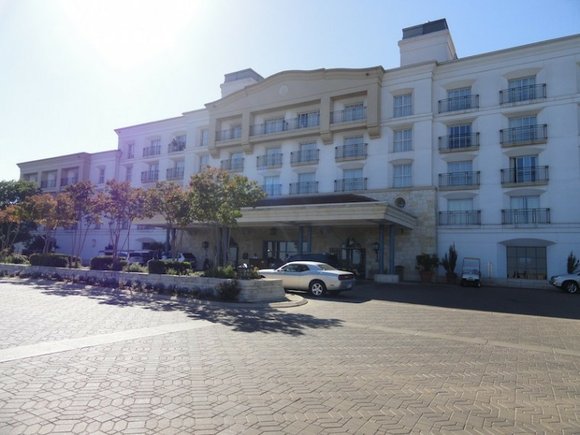 After arriving at the resort and enjoying a little free time to unpack and freshen up, my fellow travel writers and I boarded the resort van for a two-minute ride down to the Pavilion.
The Pavilion is part of the La Cantera clubhouse, which also houses a golf pro shop and La Cantera Grille. Offering gorgeous views with the Casita Village in the foreground, the Pavilion is used for large meetings and private and special events. It was here that we enjoyed a sumptuous "Welcome to La Cantera" feast that truly tantalized all five senses.
Seated at a magnificently set, stately rectangular table for 15-20 guests with plush, regal high-backed chairs in the center of the room, we were surrounded by beautiful stone floors with luxurious area rugs, voluminous windows along both the north and south walls detailed with elegant drapery and a crystal chandelier overhead. Our surroundings aptly set the stage for the evening's gastronomic adventure.
There is a palpable difference between "putting a good foot forward" for special guests and radiating seemingly natural gracious mannerisms to provide the ultimate in warmth and customer service. These qualities were so wonderfully obvious and a testament to the family environment among the resort associates, about 150 of whom have been with the resort since it opened 12 years ago.
The fabulous service and great care we received was only slightly upstaged by the evening's culinary fare.
We started with an artistic salad of fresh mixed field greens and local peaches lightly drizzled with a savory vinaigrette dressing. The expert wait staff then delighted us by circling the table with plates brimming with bite-size morsels of pan-seared redfish, roasted poblano potato cakes, stuffed quail wrapped in bacon, fresh grilled veggies and a mushroom melange of criminis, shitakes and white button, each one more and odiferous than the last.
Using ingredients and products garnered via their farm-to-table program focusing on South Texas ranchers and farmers who practice sustainable agriculture, the culinary creations were gently rested on our plates to form a geometric fusion of color and flavor. All the while, the resort sommelier followed quietly behind, proudly pouring a variety of excellent vintages-Haras Estate Sauvignon Blanc, Cold Creek Vineyard Merlot and Chateau Ste. Michele-hand-selected from their wine program featuring an extensive list of wines, including choices from 14 Texas wineries. Wine aficionados might be surprised to learn that Texas boasts more than 220 family-owned vineyards and a position as America's fifth or sixth-depending on whom you talk to-grape and wine producers.
I thought it would be really hard to top the evening meal, that is, until the chef and his expert culinary team presented us with an extravagant marble slab dessert buffet table with a chocolate fountain, handmade ice creams, fresh berries, chocolate pearls, handcrafted waffle cone pieces, liquor flambeed fruit and more that would make any sweets fan green with envy!
Fully sated and with a pleasant "deer in the headlights" look on our faces (I know that's probably an oxymoron) from this remarkable La Cantera introduction, we boarded the van and headed back to our little slice of heaven in the Texas Hill Country.
There's much more to come at the Westin La Cantera Resort.
Resource List