Family, spa and golf--La Cantera Style!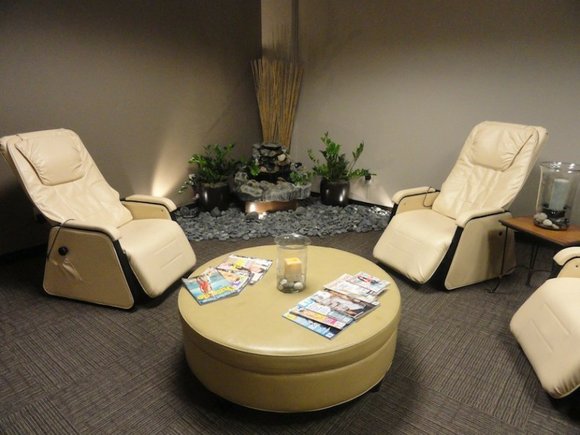 In the first part of our Texas Hill Country adventure at the Westin La Cantera Resort, we had just begun to enjoy this little slice of heaven nestled atop one of San Antonio's highest points in the northwestern part of the city approximately 15 miles from downtown. Now it's time to fully embrace the La Cantera experience!
FOR THE KID IN ALL OF US
Doing as much or as little as your heart desires is a big part of what makes La Cantera so attractive. From family fun to adult "time-out" activities and the Kids' Club, there is a wealth of options from which to choose from sunup to well after sundown.
To guide you through your options, there is a Family Fun Ambassador to help you choose from the myriad of activities here, including arts and crafts, family water volleyball, a scavenger hunt and other diversions.
The Kids Club, for ages 4 to 12 (the only activity with a nominal fee), is described as "a parent-free session filled with discovery and adventure" that runs from 9 a.m. to 10 p.m.
I was particularly impressed with what they offered for tweens and teens-you know, those children who think they're too grown to hang with the younger kids, but definitely don't want to chill with their parents? For these young adults, there is the Rock'n T Lounge with an Xbox, Wii, "Guitar Hero" and movies. In the evening, the lounge transforms into Club Roc, with dancing, games and music. Whether during the busy spring and summer months or at other times of the year, your 13- to 17-year-old will have a great (supervised) time here.
Another impressive aspect about the Family Fun Ambassador is that she takes great pleasure in creating special guest experiences-the kind of service you would expect to enjoy from a designated one-on-one coordinator. Champagne, strawberries and rose petals tossed about your room for honeymoons and anniversaries, outdoor kids' birthday parties, and writing your children's names on the bathroom wall in your guest room are just a few of the creative ideas she has used one to ensure that resort guests thoroughly enjoy the La Cantera experience.
ADULT "TIME-OUT"
At La Cantera, you can put me in time-out anytime, starting with the 2,300-square-foot secluded adult pool, complete with lap pool, sports pool and two hot tubs nestled in the hillside near the beginning of the nature trail. Featuring a tranquil waterfall, oodles of comfortable seating with bamboo shades and expansive umbrellas and its own Jacuzzi, the adult pool is a quiet haven to sit, soak or swim-it's a bit more lively in the late evening hours. You can also enjoy a poolside chair massage to ease you into the vibe. Other time-out diversions include adult water volleyball, a "Battle of the Sexes" game, yoga, Texas wine tasting and outdoor Zumba.
SPAAAAH!
If the chair massage teaser left you wanting more, it's just a short stroll to the Castle Rock Health Club and Spa. The spa is its own luxurious slice of heaven, with inviting relaxation rooms, Jacuzzis, oversized lounging furniture, plush robes and a wide array of spa services. They also offer a tasty variety of teas and wines to sip before, in between and after your spa treatments.