'Switching on Literacy' celebrates world tennis champ Arthur Ashe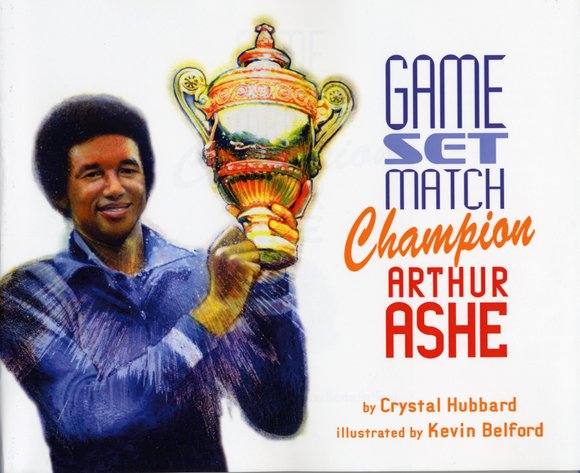 "Arthur hugged his big wooden tennis racket to his chest. He was watching a young Blackman practicing on the Brookfield Park tennis courts in Richmond, Virginia." We are instantly engaged. We want to find out more about him, don't we?
With skill, love and dedication to her craft, Hubbard unveils Ashe's story, one that shows how, during a time of segregation in America, the talented Ashe was able to pursue his dream. With the encouragement of his father, the support of members of the Black community and later members of the white community, the Kwanzaa principles of cooperative work and responsibility come into play to help guide and inspire him.
In addition, Ashe's own self-determination and sense of purpose (both of which are Kwanzaa principles) makes him practice daily as he dedicates himself to be the best that he can be as a tennis player. And he does, becoming the first African-American to win a Grand Slam tournament.
Through the author's engaging writing, we see the Kwanzaa principles of self-determination and faith being applied by Ashe as he works to improve his skills, finally making major breakthroughs-he played in the U.S. Nationals, the Australian Open, the U.S. Open, the Davis Cup World Championship and at Wimbledon, becoming the top-ranked tennis player in the world. Yes!
Through the Kwanzaa principle of purpose, Ashe uses his talents to accomplish all of those great things in the tennis arena that would help future Black tennis players like Venus and Serena Williams. At the same time, he also used purpose to help break down the doors of discrimination by protesting segregation and injustice here in the U.S. and in South Africa, as well as the unjust U.S. policy towards Haitian refugees.
"Game, Set, Match, Champion Arthur Ashe" is a crowning championship title that's got game, scores major aces, is totally engaging and performs on every level. GoGAB highly recommends "Game, Set, Match, Champion Arthur Ashe" for every home, school, community educational organization and church library.
GoGAB AWARDS
GoGAB Kwanzaa Seven Principles Champion Award: "Game, Set, Match, Champion Arthur Ashe"
GoGAB COMMUNITY
HARLEM YMCA'S TENNIS CAMP: The Harlem YMCA, at 180 W. 135th St. in New York City, offers a two-week tennis camp from August 1-12 that will "build a tennis foundation for your child." According to the program description, "forehand, backhand, serving, footwork, lobs, overhead smash and just simple volleying will be taught." In addition, "both singles and doubles strategy will be covered, as well as basic rules for match play." For further information, contact Latoya Jackson, youth and family director, at (212) 912-2162 or ljackson@ymcanyc.org.
HARLEM JUNIOR TENNIS AND EDUCATION PROGRAM: The Harlem Junior Tennis and Education Program (HJTEP) is an organization that offers free tennis lessons to 7-18-year-olds. The Grass Roots Summer Camp got underway on July 6 at Howard Bennett Park at 135th Street between Fifth and Lenox avenues. The tennis camp will take place at the Harlem Armory Center at the 369th Regiment Armory at 40 W. 143rd St. in Harlem until the 135th Street courts are completed. For further information, call (212) 491-3738 or visit harlemjuniortennis.org.
ARTHUR ASHE KIDS' DAY: HJTEP reminds everyone that Arthur Ashe Kids' Day is Aug. 27. Events will be taking place at the USTA Billie Jean King National Tennis Center Fundraiser. For further information, call (212) 491-3738 or visit harlemjuniortennis.org.
And if you can't get to these tennis camps or Arthur Ashe Day events, remember that New York City swimming pools are open for you to cool off. Remember, GoGAB says, be safe, follow the rules, have fun.
SHOPPING GoGAB
For this week's titles, please visit Lee and Low Books at leeandlow.com.
You may also visit our bookseller affiliates in Harlem at Hue-man Bookstore (www.huemanbookstore.com) and in SoHo at McNally/Jackson Booksellers (www.mcnally-jackson.com).
GoGAB BRAND & TEAM
All these titles are highly recommended by Misani's Go Get a Book in Your Hand (GoGAB) Literacy Group: Kesia's Teens, Nas+ Tweens, GoGAB Young Readers for Mom-in-Chief and GoGAB Youth & MD Men for President Obama, and our partners, the Frederick Douglass Academy I, the ICAD-FTL Festival Inc. Literary Division, the "Switching on Literacy" 2011 Experience Group and the NY Amsterdam News.
To contact the Go Get a Book in your Hand Literacy Group and the GoGAB Reading Team, please email us at gogetabook@yahoo.com.