The holiday roast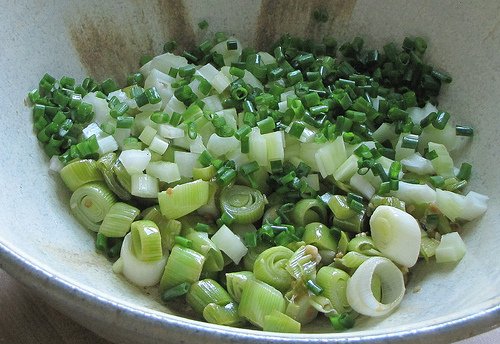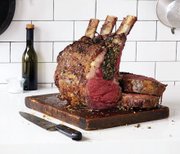 Happy holidays again, everyone. I do hope you are getting into the holiday spirit, though with these temperatures and their fluctuations, it's hard to put those mittens on for the long haul, but I am not one to complain...
I have been thinking of what might be a lovely main dish on the table on the 25th other than that turkey, who enjoys his last day to shine for the year. I've done a little trolling and discovered this wonderful recipe for a bacon and spinach-stuffed rib-eye roast from Bon Appetit, December 2011. What is wrong with that?
The Stuffing
1 pound sliced applewood-smoked bacon, cut crosswise into half-inch pieces
1/2 cup finely chopped celery
1/2 cup finely chopped shallots
3 garlic cloves, chopped
2 1/2 cups cooked (or three 10-ounce bags frozen, thawed) spinach, squeezed dry, finely chopped
1/4 cup creme frache or sour cream
2 cups coarse, fresh breadcrumbs made from day-old white bread
1/2 cup finely chopped scallions
1 teaspoon chopped fresh sage
1 teaspoon chopped fresh thyme
1/4 teaspoon nutmeg, preferably freshly grated
Kosher salt and freshly ground black pepper
2 large eggs, whisked to blend
Pulse bacon several times in a food processor to coarsely chop. Scrape into a large skillet; cook over medium heat, stirring often, until bacon is browned but not crisp, about 10 minutes. Transfer to a paper towel-lined plate to drain. Pour off and reserve two tablespoons of bacon drippings for another use. Return pan to medium heat. Add celery, shallots and garlic; cover and cook, stirring occasionally, until vegetables are soft, about five minutes. Stir in spinach and creme frache; cook, stirring occasionally, two to three minutes longer. Scrape mixture into a medium bowl.
Stir breadcrumbs, scallions, sage, thyme and nutmeg into stuffing mixture. Season to taste with salt and pepper.
DO AHEAD: Can be made one day ahead. Cover with plastic wrap and refrigerate. Stir in eggs. Spread stuffing out on a rimmed baking sheet; cover with plastic wrap and refrigerate until stuffing is firm, about one hour.
The Roast
1 five-bone standing beef rib-eye roast (10-13 pounds), chine bone (backbone) removed, fat trimmed to 1/4-inch thickness
Kosher salt and freshly ground black pepper
2 tablespoons olive oil
1/4 cup finely chopped fresh thyme
Let meat stand at room temperature for four hours.
Arrange a rack in lower third of oven and preheat to 450 degrees. Set a V-shaped rack inside a large roasting pan. Place roast on a work surface with bones standing straight up. Using a knife, cut along bones so only one inch of meat is attached at base of bones.
Pull bones away from meat to create a 3-inch to 4-inch wide pocket at the top. Lightly pack stuffing into pocket. Starting at one end, tie kitchen twine horizontally around the bones to keep them in place and secure the stuffing. Tie the roast vertically between each bone.
Season the roast (including the bones) generously with salt and pepper, rub with oil and sprinkle with thyme. Place roast, bones facing up, in prepared pan; wrap bone tips in foil to prevent burning.