The First All Black Helicopter Crew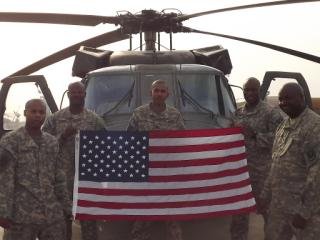 The biggest thing since the Tuskegee Airmen took off in Iraq. On Oct. 28th an all Black helicopter crew took it's first flight. Captain Hill, Louisiana, CW4 Stephen Ellis, Alabama, CW4 Murry Hill, Alabama, Sergeant McCord, Alabama and Sergeant Walker, Alabama transported troops to Taji, Baghdad and Al Asad. According to Ellis, transporting troops this way is safer than moving the in ground convoys.
"Very rarely do you see two blacks flying together, says Stephen Ellis, one of the very few black military aviators. "We managed to have an all black flight crew," Ellis continues. "It's an honor in this field. There aren't a lot of African Americans that fly period," Ellis continues. African Americans are intimidated by the study, according to Ellis. "You have to stay proficient, it takes a lot of discipline" says Ellis, "they like to stay on the ground," Ellis continues. CW4 Murry has been in the military for 22 years and a pilot for 19 years, Sergeant McCord has been a Military Aviator for 10 years, Sergeant Walker has been in the Aviation field for 7 years and Ellis has been a pilot for 3 years. Never in any of their military careers have they seen an all black helicopter crew. When asked why he thought there aren't that many blacks in the aviation field he replied, "It's all about the demand of flight hours. We have to fly at so many different times a year."
African Americans and other minorities among U.S. Pilots, however, are so low it's hard to find meaningful statistics according to Timothy R. Gaffney, an Aviation Writer. A 1997 National Academics report "Taking Flight Education and Training for Aviation Careers," found 92 percent of U.S. Airline Pilots in 1990 were white men, compared with 43 percent in the civilian labor force. Less than 2 percent were Black and less than 3 percent were Hispanic. The Air-Corps refusal to allow African Americans to join the airforce ended on Oct. 9th 1940, when the War Department at the urging of President Franklin D. Roosevelt, who wished to guarantee the support of African Americans in the next presidential election issued a statement declaring that Blacks are being given aviation training as pilots, mechanics and technical specialists. This really didn't mean that African Americans would be trained equally with white airmen. Rather the Air Corps created an Aviation Squadrons (separate units) and in most cases, assigned it's men the most menial and degrading tasks, according to the Century of Flight.
"Out of 80 aviators, the are only three Black pilots," says Ellis. "Out of a few chiefs and gunners there are only five or six Black sergeants. So will it ever happen again? Probably not according to Ellis. There aren't enough African Americans in the unit, explains Ellis.