Sophie Davis students teach patients to ask questions
12/28/2011, 6:11 p.m.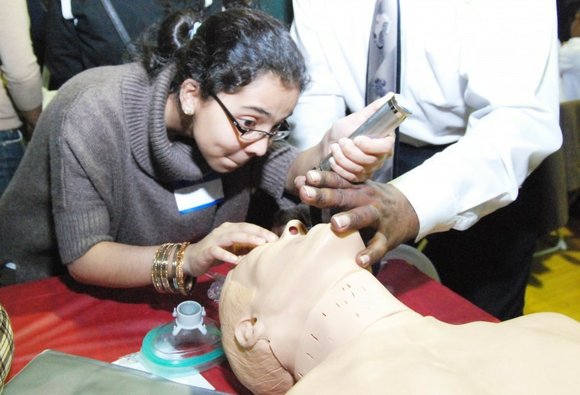 For some patients, knowing how to ask questions in a doctor's office could make a huge difference in their outcomes. A pilot program at the City College of New York's Sophie Davis School of Biomedical Education is teaching future physicians to help patients take charge of their health by talking to their medical providers.
"Some patients are good at effectively negotiating the health care system. They know what they want and how to partner with their doctor so they can take charge of their health," said Dr. Darwin Deen, a professor in Sophie Davis' Department of Community Health and Social Medicine.
"Others don't have that perspective," he continued. "They come in and expect the doctor to solve their problem. Data show those who don't take responsibility tend not to have good outcomes."
As a medical student, Deen was trained to become a consultant who could help people solve problems. However, interfacing with patients who could not ask questions posed a challenge to that process.
Sophie Davis faculty and students have conducted research on health literacy and patient activation. But the two concepts are not the same, he pointed out. "Knowledge doesn't produce behavior."
His search for ways to change behavior led him to Dan Rothstein and Luz Santana at the Right Question Institute, a Cambridge, Mass.-based nonprofit educational organization that helps people in low- and moderate-income communities learn to advocate for themselves. Through its health care curriculum, patients learn to take greater ownership of their care and partner more effectively with their health care providers.
Two years ago, Deen and Dr. Marthe Gold, the department chair, conducted a test program at Sophie Davis with a curriculum adapted from the Right Question model. Last year, it was adapted as part of the school's standard curriculum-members of the class of 2012 are the first who have been required to learn the strategy as part of a course taught by Deen.
The students are trained to conduct patient activation interventions, 10-minute conversations before the patient enters the examination room. They are intended to help the patient understand his or her role in their health and to generate questions for the visit.
"We want patients to be able to ask the right questions-those questions that will give them the information they need to contribute to managing their diseases," Deen explained. "They need to prioritize, so we recommend that they come up with eight to 10 questions but prioritize their top three to ask."
Patients must understand that what they do between visits plays a bigger role in their health outcome than what the doctor does, he added. "It's not a question of how good the doctor or the medicine is."
In addition to lectures and small group meetings, Deen employs role modeling and videotaping to give students practice and provide feedback. The course also teaches students how to talk to patients and take a medical history.
"Teaching this is challenging," he said. "We're teaching them how patients think and feel in their interactions with physicians at the same time that they are learning the doctor's perspective. It can be frustrating for them, since they are in the early stages of learning medicine and their knowledge of specific diseases is limited."