'Fela!' world tour scores Africa Sings! Top Pick of 2011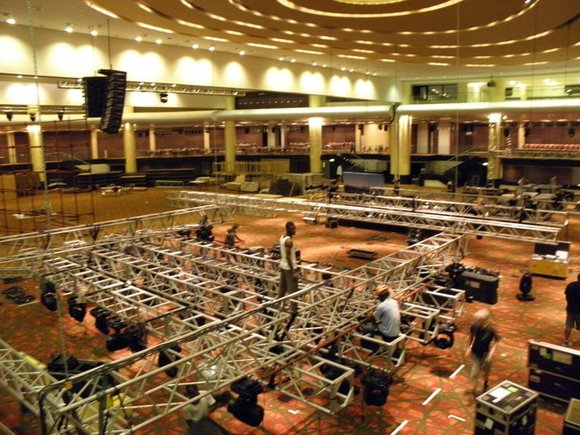 With fall, "Fela!" was back in the United States. Opening in Washington, D.C., at the Shakespeare Theatre Company's Sidney Harman Hall (Sept.13-Oct. 9), the show continued to Atlanta at the Civic Center (Oct. 11-16) and New Haven at the Shubert Theatre (Oct. 20-23), before heading to Canada for its Toronto engagement at the Canon Theatre (Oct. 25-Nov. 6). Africa Sings! Toronto colleague attorney Emmanuel Irish raved about "Fela!" in an email.
During the run, Rita Marley, Jamaica's first lady of reggae, was spotted in the audience. According to Hendel, "Marley came backstage and met the cast." This can only mean that she loved the show!
Back in the United States, "Fela!" wowed San Francisco's Curran Theatre (Nov. 25-Dec 11). "It was an outstanding experience," Hendel shared. "We received a proclamation from the Mayor's Office by the Board of Education." Yep, "Fela!" currently in Los Angeles through Jan. 22, 2012, is the show everyone is talking about.
"The reaction has been fantastic. And all the reviews are amazing," Hendel exclaimed. "No matter where we were, at the beginning of the show the audiences might have been timid and questioning. However, by the end of every performance they are standing up and yelling with enthusiasm and excitement. The two and a half hours always bring the audience to a heightened state of collective exhilaration."
Gearing up for 2012, the "Fela!" tour returns to the Washington, D.C., area, opening at the Warner Theater on Jan. 24, Philadelphia's Academy of Music on March 20 and to Chicago at the Oriental Theatre on March 28, to mention a few.
In the musical, Fela tells his chorus of queens that his first name means "he who shines with greatness." On Broadway, New Yorkers agreed that "Fela!" shone with greatness. Now with the "Fela!" world tour, the world heartily agrees. Yeah yeah!
For more information, check out www.felaonbroadway.com.