Geoffrey Holder's 'Prodigal Prince' graces Ailey 2010 season
Misani | 7/6/2011, 12:03 p.m.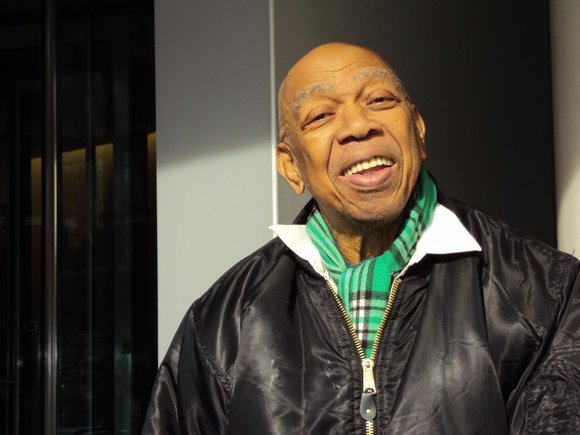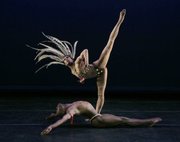 Geoffrey Holder was in his element. Well, actually one of them, since he is one of those amazing artists blessed with many gifts: choreographer, dancer, painter, actor, director, costume designer, voice-over artist and photographer.
On this day, he was director. Seated on a high director's chair in the spacious fifth floor rehearsal studio of the renowned Alvin Ailey American Dance Theater (AAADT) on West 55th Street, the Tony Award-winning director was thoughtfully helming a rehearsal of a new production of his acclaimed 1968 masterpiece "The Prodigal Prince."
The ballet, for which the Tony Award-winning costume designer choreographed, costumed, and composed the music for, will be among nine premieres and new productions of the highly anticipated 2010 AAADT season, which runs from December 1 through January 2 at the New York City Center (131 West 55th Street). "The Prodigal Prince" premieres on December 7, with additional performances December 9, 21 and 23.
Subsequent to the afternoon's rehearsal, Holder discussed some production notes with Masazumi Chaya, associate artistic director of the AAADT, who's the assistant to the choreographer for "Prodigal Son." (In addition, during several of the rehearsals, both Judith Jamison, the artistic director, and Robert Battle, the artistic director designate, sat in).
Soon the divine, ephemeral strains of the score's religious chants gently embraced the space. Moments later, the humanizing sound of the drums and chants ensnared the room, transporting it and its occupants to another time and place: Haiti, the mysterious and seductive setting for Holder's intriguing ballet about the distinguished painter and priest Hector Hyppolite. After years of painting without being recognized for his talent, a vision appeared to him in the forms of the Voudon goddess Erzulie and Saint John the Baptist. This revelation, in conjunction with a actual or imaginary trip to Africa, motivated Hyppolite to paint the world of the Voudon "loas," the gods of Africa, who prophesied "that a man from overseas would buy Hyppolite's paintings," which would change his future. Andre Breton, a Frenchman, did purchase Hyppolite's artwork, which brought him fame, as well as accolades for his artistic genius.
Holder's rehearsal was electrifying. The brilliant company of dancers sparkled. You could see their love for the work and for Mr. Holder, who lavished them with well-deserved praises: "I love it!" "You all are flying!" "It reads beautifully." It's like dialogue." "It's a line drawing...lovely, lovely!" "Bless you!" 'It's hot and tasty," he boomed before giving them encouraging notes: "I don't want to see dancers...don't think like dancers. I want to see people..." and "Remember, this is a dialogue between Mary, John the Baptist and Hyppolite" and "I want to see this expression: 'Whoa! I've seen the Virgin Mary!'"
A few hours later, Mr. Holder and I are in a cab heading downtown to his SoHo residence. During the trip, he shared the backstory for the evolution of "The Prodigal Prince."
"I met Judith Jamison when she stayed in our home. She had done a ballet with Carmen [Holder's wife, Carmen de Lavallade, the acclaimed dancer, choreographer and actress] called 'The Four Marys' for the American Ballet Theatre. She was also working at the World Fair, and Carmen said she could stay with us in our home." Geoffrey recounts. "I was in Paris. When I came back, she was there, and she was so gorgeous. She looked like a Jocometti sculpture. Very tall. And I'll never forget. They were playing the music of The Supremes," he said, singing "Baby, baby" you know, from "Where Did Our Love Go?" And she was just strutting around, and I said, 'This lady has a wonderful body language.'"