Geoffrey Holder's 'Prodigal Prince' graces Ailey 2010 season
Misani | 7/6/2011, 12:03 p.m.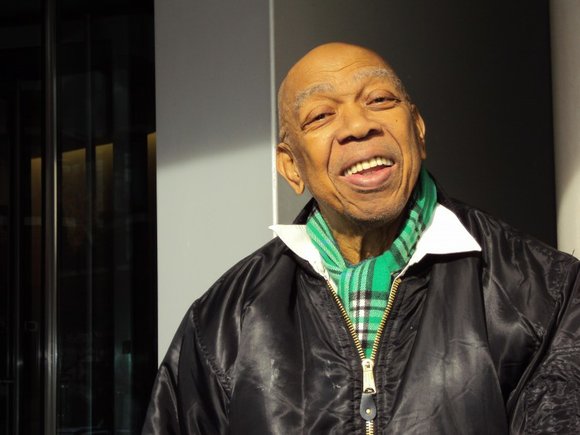 Holder revealed that Jamison later became a member of the Ailey Company. "What happened was Miguel Godreau asked me, 'Geoffrey, why don't you do a ballet for the company?'" Consequently, Holder went and spoke with Alvin Ailey about doing a ballet about Hyppolite for the company with Miguel and Jamison as the lead dancers.
Holder had first learned about Hyppolite when he was in Puerto Rico for the first Caribbean Festival. He recollected: "The Haitians were incredibly wonderful. The dancers were incredible. I got exposed to the Haitian folklore and their art, and I found out who Hyppolite was and that he was one of the greatest painters."
Subsequently, a woman came to dinner at Holder's home. Holder picks up on the conversation that ensued that evening. "She said, 'I just came from the Museum of Modern Art, and do you know who was there? Hector Hyppolite.' And I said, 'Oh really?' 'Yes. He was there all dressed in a white suit and a big crown on his head.' I said: 'A crown?' And I said, 'That's a lovely image.' And she said: 'He was talking, and he said he dreamt he went to Africa. To make a living, he painted flowers on chamber pots.'
Abruptly switching from his colorful storytelling, Holder asked: "You get that? I mean that's a piece of poetry! He was known for painting with a feather. One white feather. That, for me, is magical...a story for a fairy tale. Instead of the prodigal son, 'Prodigal Prince.' For me, he was royalty," Holder continued. "And plus, he felt himself royalty because he wore a crown."
Holder went on to create the ballet, which starred Jamison and Godreau.
"He is the most brilliant dancer I know. To me he surpassed Nureyev. He is a Puerto Rican man. Very petite and brilliant.." The ballet achieved world-wide success. "It went to Russia...Then after that, I hung it up and didn't do it anymore."
Jamison, who had by this time become the artistic director of the AADT, asked Holder to revive it again. "The very beautiful Brianna and talented Mathew Rushing were in the lead roles. They did it brilliantly, and again the ballet survived."
That was 30 years ago. Then recently, Holder said to Jamison that he would like to do "Prodigal Prince" again as a salute to Haiti.
"Hector Hyppolite is a Haitian Picasso. And I love his collection," declared Holder, the recipient of a Guggenheim Fellowship Award. "I have a very big collection by Haitian painters. They are very inspiring. There's a beautiful innocence about what they paint and what they do and what they see."
Bringing in the aspect of Haitian folklore to his conversation, Holder, who was born in Trinidad shared: " I respect Haitian folklore. I made my name in this country in a Broadway musical called 'House of Flowers,' which was set in Haiti." The Truman Capote musical starred Pearl Bailey, Diahann Carroll, Alvin Ailey and Carmen DeLavallade, who Holder met during the production and married.
"I choreographed and I played the part of Baron Samedi, who is the god of life and death. "He brings you into the world and he takes you out," Holder said about the character, which is based on the African religion called Voodun. "It was a big success for me, and then 30 years after that, I was called to do the same character in a movie called 'Live and Let Die,' which was James Bond with Roger Moore."
Lingering on the subject of Samedi, Holder reiterated: He is life and he is death. We celebrate him on All Saints Day, you know the first of November, the Day of the Dead. In other cultures, like Mexico, you respect the dead. Switching back to Haiti, Holder exclaimed: Their material is so rich in folklore. It's like that of Greek or ancient Africa, and they have not lost it, thank God."
For information, schedule and ticket prices for the Alvin Ailey American Dance Theatre 2010 season at New York City Center, visit www.alvinailey.org.