Gwen Gilyard: A pioneer makes her transition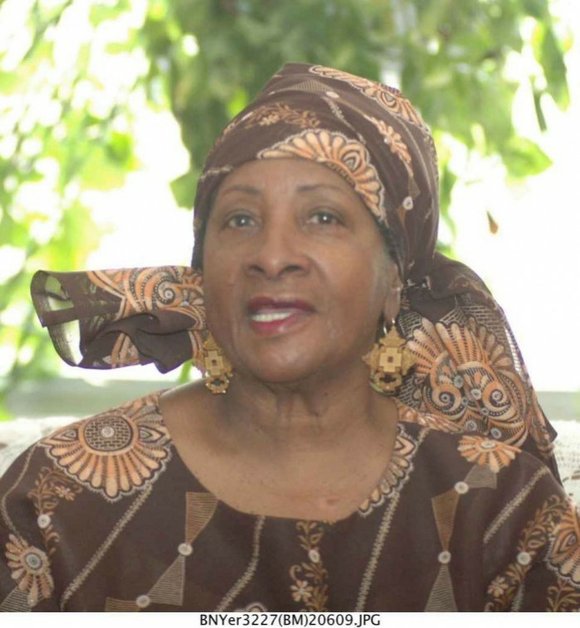 When the AmNews visited Gwendolyn Akua Afriyie Gilyard in February 2009, the pioneering educator, social justice activist and adorable mother and wife was baking what smelled like the most delicious quiche ever made. Her Riverside Drive apartment was both homely and a remarkable testament to Africa Diasporan art, history, politics and culture.
A member of Abyssinian Church's Black Teachers Who Care, the avid writer and pursuer of justice for the ignored, the downtrodden and the oppressed was married to Manuel Gilyard, her activist husband of four decades. He is the chairman of the Malcolm X Commemoration Committee and co-founder of the Ebony Society of Philatelic Events and Reflections.
Gilyard, a graduate of Georgia's Moultrie High School for Negro Youth, spent the best part of 40 years in New York. Prior to settling in the Big Apple though, she spent four years teaching in Ghana, where she taught drama in Mpraeso and Accra. Upon her return to the states, she began teaching in Harlem schools and met and married Manuel. "I met him 39 years ago in New York," she told the AmNews in 2009. "I was teaching, and my students called me the African teacher. There was an issue with [Manuel's] nephew, and he claimed he just came to check on me. But I think he just wanted to see who this African teacher was. We've been married just a little bit less than 40 years."
A gorgeous home filled with beautiful Black art from all over the Diaspora, Gilyard was proud of her heritage and exemplified her Renaissance woman status with her commitment to the arts. She was a retired teacher and actress who went on to pen her autobiography, "From the Cottonfield to Higher Places."
"My greatest interest is theater," she told the AmNews. "I majored in theater in college. When I came back from Ghana, I went to the National Black Theater in Harlem. It was really great. It did more than give me the opportunity to show my acting ability-it helped me to develop my inner self. Barbara Ann Teer really did have a method for people to investigate themselves and to see what they were about, and how to relate to other Black people."
She went on to teach elementary students at PS 129 and PS 200, "and then I became a librarian," she said. "I got involved with my kids and I loved it. I loved being an elementary school teacher because I had a principal who allowed me to do, more or less, whatever I wanted to do. I said I wanted to teach writing to the kids, and so I did: from kindergarten to sixth grade."
Discovering "that the kids didn't know anything about Black history," she made it her mission to reverse that great imbalance in District 5,
With her own two young girls Maisha and Tulani growing fast, Gilyard started a rites of passage group. "We had classes and ceremonies. Other parents were involved, including Rev. Williams and Donna [Marimba] Ani." Answering a need and responding to so many inquiries, they ended up writing a book, "Transformation: A Rites of Passage Manual for African American Girls."