Same sex couples finally, officially say, 'I do' in NYC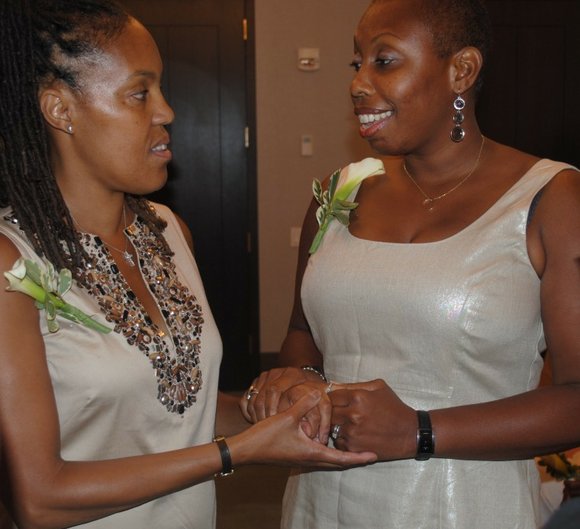 Sunday, July 24 marked a historic day in New York history, as hundreds of same-sex couples were legally wed in the sixth and largest state to allow the unions. A month ago to the day, June 24, Gov. Andrew Cuomo signed the same-sex marriage bill into law.
The 764 marriage slots were awarded by lottery, but when 823 couples registered, the state made everyone a winner by allowing all the couples to marry. Both gay and straight couples applied, breaking the record of 621 couples wed on Valentine's Day 2003. Most of the marriages, 459 of them, were conducted at the Manhattan City Clerk's Office at 141 Worth St.
It was a day full of love and exuberance, as couples, some from as far away as South Carolina, Tennessee and Puerto Rico, came to the city to tie the knot.
Shaun Burse and her partner of two years, Jameese Cox, both from Nashville, Tenn., were excited to be in New York for this historic day. "We were planning to go to Connecticut to have a full ceremony with our family and friends, but we wanted to do a legal marriage," Burse told the AmNews. "We said, 'New York, forget Connecticut.' We got on the plane and here we are. We got here Saturday morning and it has been nonstop. Except that we couldn't catch a cab after dark, New York is awesome. Everybody has been real friendly."
Coming all the way from Puerto Rico were Sheela Medina and her partner of two years, Evelyn Gonzalez. "We're very happy. We love New York," Medina said. Translating Gonzalez's sentiments, she said, "She feels very glad and very happy. We are going to have a big celebration in Puerto Rico."
Audra Seabrook and Jasmine Mendez of South Carolina have been together for three years and have two daughters, 7 and 13 years of age. They arrived from South Carolina. "We're excited. Everybody should have the opportunity to be married and be as one, especially when it comes to health benefits and needing to do things for one another. It's just easier if we're married. Hopefully it will get to South Carolina soon. I love my wife very much and it's great. We're going to have a pretty good time when we get out of here," Seabrook said.
Speaking of their children, Mendez said, "They're excited for us. They don't have to hide in the closet and say my mom's not a lesbian. They can be proud. It's still a struggle, but hopefully it will get better in time because it is legal now. It's rough for children. My 13-year-old has had to explain it, but now she can say we're legally married. I'm happy for that," she said.
Two women from Philadelphia, both of whom were in law enforcement, were excited to finally be able to marry, but talked with anonymity to the AmNews about how job discrimination and fear still affects same-sex couples, even when legally wed.
The pair, who has been together for four years, said, "They just need to leave it alone. They need to drop it. Our families have no problem. We just wanted to be here for the first day." They then proudly showed off their rings.