Terence Cardinal Cooke nurses picket for a fair deal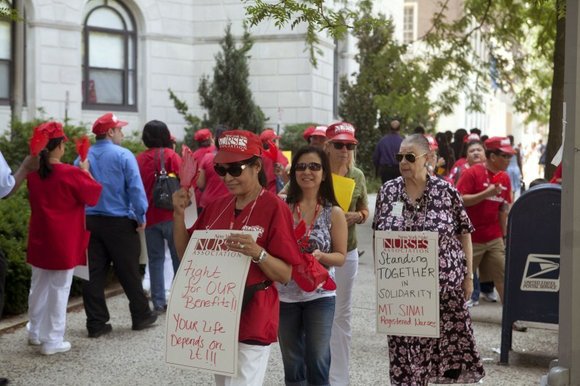 Nurses at the Terence Cardinal Cooke Health Care Center in Manhattan and members of the New York State Nurses Association (NYSNA) staged an informational picket on
Tuesday in front of the facility, to protest staff cuts and to demand a fair contract that includes cost-of-living wage increases while preserving health and pension benefits.
The nurses accuse management of only being concerned with the bottom line. At present, the center's 112 registered nurses have been working without a contract. The most recent two-year contract expired on Dec. 31 of last year. There have been nearly a dozen negotiation sessions to reach a new agreement, none of which have been successful.
At the heart of the dispute is management's desire to decrease the nursing staff by 26 percent, while decreasing pension and health care benefits and without any salary increase for this year.
The nurses, all of whom are represented by the NYSNA, maintain that such a large decrease in staff poses a risk to the level of patient care and to the ability of the remaining staff to effectively perform their duties. Cutting health care and pension benefits is simply unfair. Furthermore, such conditions would hamper the center's ability to attract and retain the most skilled RNs. Cutting personnel puts an additional burden on the nursing staff, who often work double or even triple shifts.
About 40 nurses and supporters picketed in front of the Terence Cardinal Cooke Health Care Center located at 1249 Fifth Ave. The 729-bed facility, which is part of the Catholic Health Care System, provides a home for the elderly and those with developmental disabilities, Alzheimer's Disease, dementia, HIV/AIDS, and other chronic illnesses.
The nurses maintain they are committed to their work at TCC and are willing to meet with management to discuss the proposed staff and benefit cuts, but they are not willing to simply accept these cuts, which compromise both patient care and the well-being of the nursing staff itself.
Lorna Boswell, a 17-year veteran at TCC, told the AmNews, "This is the hardest, most difficult time to get a contract."
"They want to take away our pensions and our health care benefits and it's not fair. We are the first line of defense when you have a sick patient with disease. Everything is exposed, and for us not to have health care benefits is a disgrace to nurses. We work very hard and put ourselves at risk for injuries and back pains. We can't go to the doctor, yet they expect us to turn up to work everyday. All we need is a fair contract and we won't stop until we get one," Boswell said.
Patricia Holloman of Queens has worked as a nurse at Mt. Sinai Hospital for 35 years. She was on hand to show solidarity with her colleagues at TCC.
"All the nurses who are in the pension plan and in the health benefits plan have to stand together on this issue because we are also representing patients. We're representing ourselves as advocating for patients and against cuts in the health care system and in pensions for public employees, many of whom are nurses from the health and hospital corporation," she said.