Terence Cardinal Cooke nurses picket for a fair deal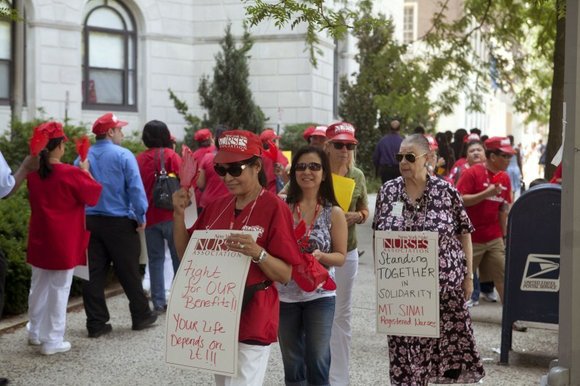 Jose Mercado, whose mother has been a patient at TCC for 13 years, offered his support to the nurses, whom he said have given his mother excellent care.
"They do everything that they have to do for my mother and other patients. They go beyond what they're supposed to do. These ladies sometimes work two or three shifts. They do so much for the patients at this facility. It's a shame that the ninth floor doesn't get together and give them better contracts and better treatment. I support them completely," Mercado said. "There is a lot of waste that goes on. If you want to save money on the things you waste, you would have enough money to hire more staff instead of cutting staff and money to give these people more benefits, because they truly deserve them." he said.
"This place is unique. We came here years back for some reason. It's not because of the money. There's something else that brought us together," nurse Josephine Rojas said.
"But what is it now that we have? I understand how the climate is, but this is just so extreme. Everything is going up, but what about us? We have families too. It's not that we are not going to be flexible with the way the times are, but the cuts are too extreme. They should not forget the men and women who come here everyday. The heart of this place is supposedly caring for people, and also caring for the people who dedicate their lives to caring for them," Rojas said.
"I would like to say to management that we are important to the institution. We are only asking for our health care benefits and our pension plan, just to maintain those things. We are nurses. We take care of others and we would like for management to take care of us," said Vivian Johnson, a 16-year veteran who is also the president of the NYSNA.
Roxanne Romney and Chastity Cruise Hamilton, representing Columbia Presbyterian Hospital nurses, were there to support the TCC nurses as they face similar contract negotiations, charging that management want to cut benefits and is only willing to engage in secret negotiations.
"They are trying to change the health care benefits and take away what the nurses have," Romney said. "It's basically the same situation." They want secret sidebar negotiations and we won't do that. We know that management does not want us to have a picket but they still haven't said, 'come on let's negotiate right away.' We have our next session after the picket on July 26," she said.
At press time, calls for response from TCC management were not returned.
Three more informational protests are set for Tuesday, July 26, from 7:00 to 9:00 a.m. at Allen Hospital, 5141 Broadway; WHEN? TKTKTK Morgan Stanley Children's Hospital, 3959 Broadway; and from 11:30 a.m. to 1:00 p.m. at Milstein Hospital, 177 Ft. Washington Ave. For more information call 212-785-0157, ext. 177.