Hanging out: Young people's worries and tactics to stay safe
Reported | 7/28/2011, 11:54 a.m.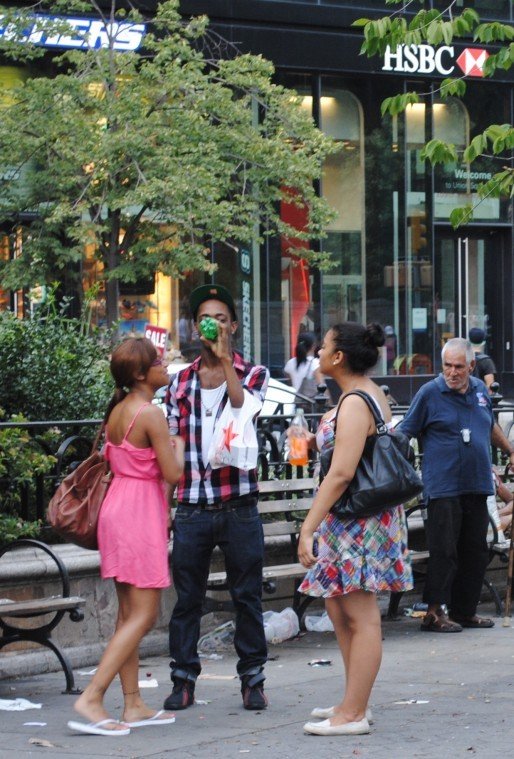 Shaquila Grizell, 18, lives in Flatbush, Brooklyn. She said that she sometimes fears hanging out at night as well. On more than one instance, she reported, a stranger has followed her halfway back to her home. Grizell said telling her mother where she is is one way she stays safe.
"You just never know what's going to happen and there are so many crazy people these days," she said. "I always call home and tell my mom where I'm at or if it's almost close to home I tell her to come outside and meet me at the bus stop."
While Black and Latino high school-aged teenagers and their parents are particularly concerned about safety issues and hanging out, these concerns are not going away once these young folks hit college age. While the life of American college-age youth of all races often includes some aspect of partying and drinking, many college students of color say they are taking special precautions to stay safe.
The city has an array of bars, clubs, restaurants, piers and lounges for young adults to explore. But with all the glitz and glamor comes the negative side of the nightlife. Being a Black or Latino young adult can be especially challenging when finding a place to hang out after dusk in the city. Many confrontations between police and minority teens can result in negative situations where youth are ticketed or even detained.
"I normally stay at a friend's house if I know we're staying out late," said 20-year-old Amyra Perry. "It's not safe going home on the subway late at night-too many creeps in the train-and normally I have no money for a cab, so I stay at my friend's house so we can go home together."
Nineteen-year-old Aaron Dodson said that when he goes out at night, his fear is being confronted by aggressive police for no reason.
"I stay in the crib a lot because, past midnight, the cops are hawks-they stop you for no reason and the only crime is because you're a Black man hanging out at night," he said. "I wish I could just hang out with my friends without the hassle. Until then, I stay inside most of the time."
NYU student 19-year-old Jeremy Accime said that he avoids traveling alone to stay safe when he's hanging out in SoHo, Harlem and Brooklyn.
He said, "I travel in packs but I don't hang out in big circles."
Twenty-year-old student Kendra Hunte says she always makes sure to have a plan when she goes out at night.
Recently, Hunte and her friend were invited to a house party in Jamaica, Queens, on Hillside Avenue and 171st Street. Although Hunte was willing to go, she admits she was hesitant about going to the late-night party because of the neighborhood.
Both friends decided before that, if one wouldn't agree to go, then neither of them would attend the party. Since they both decided to go, Hunte and her friend were dropped off at the party by her friend's mother at 11 p.m., although it started at 9.