Wild for local shopping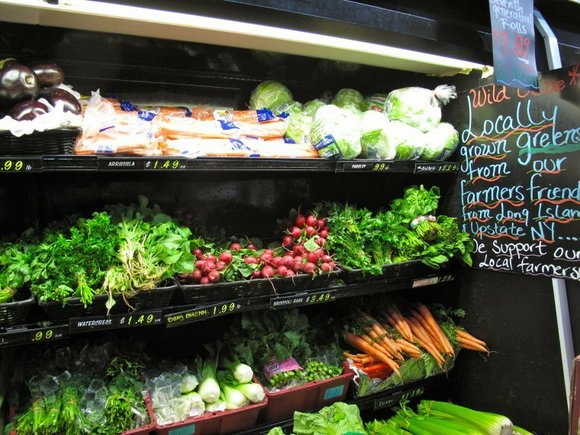 Manager Tenisha Sterling says Wild Olive takes its stocking direction from many sources, including their higher-end distributors that provide items not found at their big-box competitor down the street. However, their best source is their customers, who request items they heard about on "Dr. Oz," that are recommended to help diabetes, high blood pressure and other ailments or simply because they taste good or support a certain lifestyle (e.g., vegan, gluten-free). Wild Olive also works with physicians and nutritionists to teach classes on healthy eating.
As I moved to the other side of the market, passing a nice selection of beers, I found poultry, meat and fish. I really liked that the fish signage included not just the price per pound, but the origins of the fish and whether it is wild or farmed. The meats are purchased in smaller quantities and butchered in house to maintain quality and keep prices low.
There is also an open kitchen where Taso and his staff cook up daily meals of salads and sandwiches, roasted meats and vegetables and other side dishes. Lines of area regulars come in for lunch and dinner every day to eat what's on the menu.
And if you think all of this comes at a premium, think again. Wild Olive has everyday deals and competitive price points that will keep you coming back. Sterling tells me customers that normally shop downtown are enjoying having the market right in their own neighborhood.
Let's keep asking for these types of markets in Harlem or at least ask our existing markets to stock better quality products for us and our families and friends to buy. I do see some changes at those staple supermarkets I mentioned, but we can continue to ask for more.
Hope to see you in the produce aisle soon...
Enjoy, get eating and thanks for reading!
Follow me on Twitter @SCHOPgirl.
Questions at dinnertime? Chat with me at AskSCHOP, Monday through Friday, 6-8 p.m
Kysha Harris is owner of SCHOP! which is available for weekly service or for home entertaining. Questions? Comments? Requests? Feedback? Email kysha@iSCHOP.com.