Cabbies and council members protest new livery laws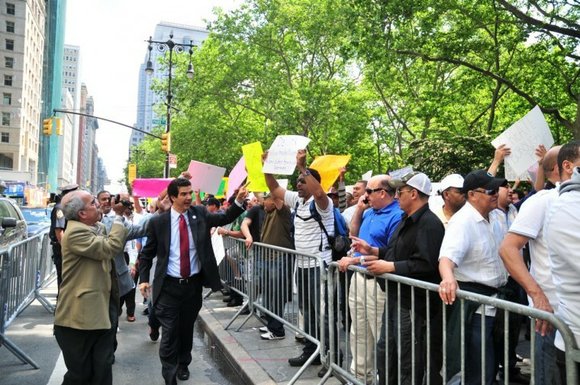 A new law is in the works that will require the purchase of medallions by livery cab drivers. The city government is in the process of finalizing the Five Borough Taxi Plan, a new legislation that has the potential to greatly cripple the taxi and limousine industry.
Dozens of drivers and City Council members gathered outside City Hall this past Monday to express their displeasure with the law. "Livery taxis provide jobs to more than 38,000 drivers, and support nearly 100,000 people who are connected to them," explained City Council Member Ydanis Rodriguez, one of the leaders of the effort. "The plan would threaten to take the food out of the mouths of these 100,000 people, and, as the representative of an area where many drivers live, I can't let that happen."
Roughly 400 livery bases were closed during the rally with the hope of showing the city government and the Taxi and Limousine Commission (TLC) that the drivers are not willing to support this new law. As a former cabbie, Rodriguez can understand the pressures this legislation will put on drivers. He is relentlessly working toward creating a more suitable plan.
"I've put into motion a number of bills which would protect the livery drivers and show them the respect they deserve for serving our communities for so many years," said Rodriguez. "This legislation would work to provide real solutions to the problem of having serious demand for street hails but current laws that work against the interests of everyday people. We know the conversations have been happening, and we know that our livery drivers won't be left out."
The current plan aims to correct issues that cab riders have been complaining about for years by broadening the reach of yellow cabs throughout the five boroughs, enforcing uniformity in yellow cab appearance and a rooftop taxi light, mandating fair fares and guaranteeing riders will be taken anywhere within the five boroughs. The means to achieve these goals is by introducing an additional 1,500 yellow cab medallions into Manhattan-an unrealistic requirement for working-class livery drivers who typically make $700 in a 70-hour workweek. Usually sold at auction, a yellow cab medallion can cost a buyer anywhere from $600,000 to $1,000,000.
"We need real solutions to New York's transportation challenges. This must include protecting the livelihoods of hard-working livery drivers," said State Sen. Adriano Espaillat. "I am eager to work with Council Member Ydanis Rodriguez, Bronx Borough President Ruben Diaz and all my colleagues on this critical issue."
The past two weeks have seen the mobilization of over 1,000 livery drivers who successfully pushed back one of the components of the plan that they feared would instantaneously eliminate thousands of livery cab jobs. Rodriguez's next move is to negotiate with officials in Albany to stress the drawbacks of the law. He will also introduce his alternative plan, which would set the medallion price from $1,000 to $20,000.
"People of any color-Black, Latino, Haitian-should be able to purchase a medallion," concluded Rodriguez. "We need to advance all these people, and this will just hurt them."
Bill de Blasio, New York City public advocate, told the AmNews, "The Five Borough Yellow Taxi and Livery Service Plan is a winner for all of New York City's residents. By auctioning new medallions that permit taxis to pick up street hails outside of Manhattan, we will improve transportation in the outer boroughs while adding over $1 billion in revenue and thousands of good jobs for New York City. I also believe that the city's efforts to ensure financing for livery owners seeking outer borough permits are a key piece of making this plan work. I am proud to support this proposal."