Melinda Murray's heart and soul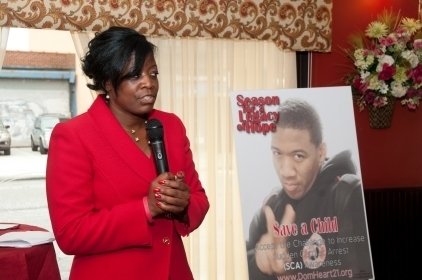 When Queens resident Melinda Murray's 17-year-old son died in 2009 of cardiac arrest on the basketball court, she decided to go on a mission to make sure that no one else's child died the same way. Turning her sorrow into action, she works to make people aware of the importance of heart health for youth.
Murray is the executive director of the Dominic A. Murray 21 Memorial Foundation Inc. The nonprofit's mission is to promote sports health, education and safety. The foundation particularly focuses on preventing sudden cardiac arrest (SCA) in young athletes, implementing preventative heart screening in educational institutions and youth-athletic organizations, and providing training to coaches, teachers and youth-athletic organization volunteers in cardiopulmonary resuscitation (CPR) and the use of an automated external defibrillator (AED).
But for Murray, her main goal is to save a child's life and not have another parent go through what she went through. Dominic (affectionately known as "Dom") was in his the third month of his freshman year at Farmingdale State College in New York when he collapsed on the basketball court from SCA. His organs shut down, resulting in his death. Murray lost her husband, Dominic's father, three years earlier.
"Dominic was all I had and all I ever wanted. I couldn't bear to be without Dominic," Murray said. "I wanted people to know who he was. In order to survive, I have to make sure we help other young hearts. SCA is not uncommon. Every three days, one student athlete dies from cardiac arrest. It can happen in the classroom, on the playground or even in their sleep."
Three months after her son's death, Murray started the foundation and she is currently certified to teach CPR. She provides free CPR training to people to prevent another tragedy from happening. Murray is in the process of trying to help pass legislation that would require high schools to teach CPR, student athletes to get cardiac screenings and coaches to carry AEDs.
Murray said, "We are advocating for awareness of cardiac arrest and cardiac screenings. The whole goal is to save a child through education, early detection and early defibrillation. This is my duty; I have do this."
With summer starting, plenty of young people plan on hitting the basketball courts. Murray advises parents to know their family health history, get their child screened before playing sports and know who is around when their children are playing. Having someone around with an AED or proper CPR training, she said, can make a difference between life and death.
Murray continues to participate and hold several activities to promote her efforts. She recently participated in National CPR/AED Awareness Week earlier this month by hosting several events. On August 6, Murray will host the DomHeat21 Day of Awareness and Carnival at Monsignor McClancy Memorial High School in East Elmhurst, Queens.
For more information about the Dominic A. Murray 21 Foundation Inc., log onto www.DomHeart21.org.