Harlem Opera Theater honors Barbara Smith Conrad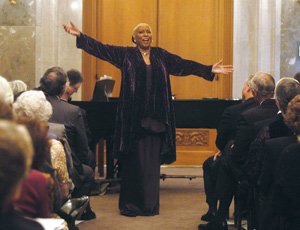 "I worshipped the ground he walked on," said Conrad, who sang at Johnson's funeral.
At the Harlem Opera Theater event, Conrad was elated but overwhelmed. Weighty speeches and momentous applause followed the film. "I was glad to be that person they could be proud of," she says.
"We had some wonderful talents there, including a countertenor, Patrick Dailey, and tenor Issachah Savage, and Arthur Woodley [bass-baritone], who I actually coached at Alexander Burger Junior High in the South Bronx."
Colleague and conductor David Gilbert, music director of the Wagner Theater Project, spoke with genuine adoration of Conrad's voice, character, drive and their 30-year musical relationship.
Sage chimed in. "Our bonding was really immediate. I was a Southerner who left the house at 15," she says. "We were [both] poor. We had to make our own way."
"I met Patsy, my accompanist, 42 years ago," said Conrad. "We would exchange lessons: voice lessons for piano lessons. It's been a long journey. We've been at this forever, because that what it takes if this is your goal."
In a final act, Conrad rose to perform one of her signature hymns while a lifted, tearful congregation joined her for "Amazing Grace."
Write us at suite.sounds@yahoo.com to inform us of your classical music news.