Picture the Homeless and Hunter College to identify vacant properties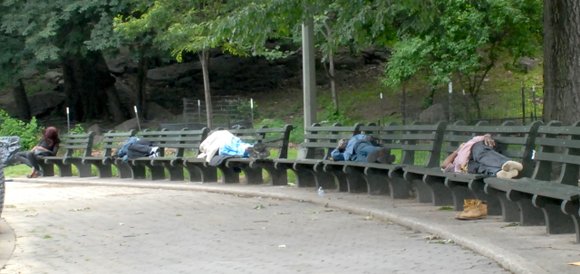 This past weekend, volunteers with Picture the Homeless (PTH) went on an expedition through a number of Brooklyn neighborhoods to count vacant properties in order to verify and correct data from the Department of Buildings. PTH is a citywide, multiracial, bilingual organization, whose constituency includes homeless people living in shelters as well as those living on the streets.
Kendall Jackman, PTH housing campaign leader, supervised the Bedford-Stuyvesant team. "We are counting the top 20 community boards with the highest density per square mile of vacancy and property," she said.
PTH is collaborating with Hunter College Center for Community Planning & Development (CCPD) on this program. They propose to develop an inventory of all vacant land and buildings in the five boroughs.
Once complete, the inventory will build on PTH's 2007 survey of vacant properties in Manhattan, the "Right to the City" vacant condo count.
"The community board and the public will know just how many vacant properties are in New York City," Jackman noted. "That land can provide homes for the homeless, low-income housing and assisted living for the elderly. Communities can turn empty lots into playgrounds, gardens and parking lots."
The results of the survey will be presented to community-based organizations and city officials as a means of launching discussions about community based planning and citywide strategies for addressing housing issues.
City Council Member Letitia James applauds this effort. "Brooklyn neighborhoods are plagued by vacant properties and displacement," said James, "and we are losing more and more of our people to the homeless shelter system. The city needs to do more. The data we gather with this count will help us create real solutions that benefit working-class New Yorkers."
"There is no reason for anyone to be homeless in this city. Jobs can be created from construction. You will be surprised how many people in the system have skills to work in these buildings," Jackman added. "The next step is legislation. The Department of Buildings should be empowered to act on the Nuisance Law for vacant buildings. HPD [the Department of Housing Preservation and Development] should fine landlords who don't comply."
The Brooklyn survey is part of PTH's multi-year campaign to documents vacant properties. PTH argues that such vacancy inflates the cost of New York City housing and is the root cause of homelessness. For more information, go to www.vancantnyc.crowdmap.com.