Summer family fun
6/24/2011, 9:13 a.m.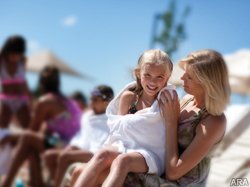 "It's seamless and easy," says Tanya Lugo, a Life Time member in Berkeley Heights, N.J., whose two children often transfer between lessons and the child center. "When I have my children enrolled in something I just leave instructions to escort them to the child center after the lesson and I let the child center staff know where I'll be. The staff is very flexible and helpful."
This affords Lugo time for a workout and a trip to the spa. When her husband, Luis, brings the kids to Life Time, he takes time to hit the pool. The Lugos children have participated in swim lessons, cheer and sport classes, rock climbing and summer camp.
"Sharing physical activities under one roof with your family isn't just a good way to get your heart pumping and burn calories. It's also a great way to build family bonds," Lugo says. "When you make fitness a fun part of kids' everyday lives, they'll be more likely to exercise when they're grown. That's your greatest gift to them."
At Life Time kids have the opportunity to make fitness a part of their world, too, which encourages them to take ownership of their health in a time when most American kids need more activity.
"School recess isn't enough," says Christina Parmley, National Activities Director for Life Time. "Parents are struggling to make sure their kids get access to the physical activity they need to grow up healthy. At Life Time we're striving to help children learn how to make healthy choices. We provide access to physical education and include the role nutrition plays in growing up healthy."
That's exactly the sort of message Karen Schupp, a Life Time Fitness member in Chanhassen, Minn., wants her children to hear. "As a busy mom of two I rely on the child center to help me get my workouts in, but it's also important to me that my kids grow up active," she says. While Schrupp enjoys classes like Total Conditioning, Vinyasa Flow Yoga, and Strike! she knows her kids are on the move, too. "My kids don't complain about going, either. This is not about what mom wants to do. We all want to go."
Schupp's children will attend Life Time Kids Summer Camp this year. "I'm thrilled with everything that's offered. The themes are fun for the kids and the program is so dynamic. We're all excited about it."
The summer camp program is exactly what you'd expect from Life Time. Summer camps combine everything a kid wants to do with everything a parent wants, too: active play, learning, and nutrition skills. Life Time Kids programs is one step ahead on convenience. Swim lessons? They'll make sure your child gets to and from their swim lesson when they're scheduled during their camp session.
"We're just helping mom and dad free up some time on the weekend or weeknight by including the option for lessons during the day," noted Parmley.
Free time? Yes, please!
Those camps include 12 signature, kid-approved themes each week. "They tie fitness and nutrition together so kids are staying active all day, while learning different nutrition concepts each week through games and other fun activities," Parmley says.