In need of a basketball game?
6/25/2011, 9:09 a.m.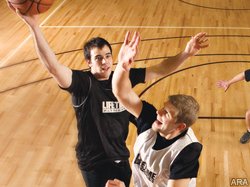 (ARA) - You'd think Miriam Swanson gets enough basketball playing varsity at her high school in Chaska, Minn., but when she's not working out with her team she heads to the courts at her local health club.
"The surface there is easier on my knees and I like that they keep the rims and backboards clean," Swanson says, who plays forward and enjoys hitting the courts to shoot with friends, get in on pickup games or practice drills on her own.
"Having access to the fitness equipment is a huge plus," she adds. "I can bring bands and medicine balls to the court for specific drills and strength work. It's great."
Whether you're interested in shooting a round of hoops with your family, finding a regular pickup game or playing in a league that feels like you're living the professional basketball dream, Life Time's Ultimate Hoops business is your destination.
Ultimate Hoops caters to players like Swanson looking to perfect their game, as well as weekend warriors seeking to execute the plays from years past. There are always pickup games happening on Life Time's state-of-the-art basketball courts. Members can leave it all on the court when they have access to Life Time's resort-like amenities, whether that's cooling off in the pool, a healthy post-game meal at LifeCafe, or massage at LifeSpa.
Interested in league play? Ultimate Hoops also delivers a premiere, pro-like league experience. The competitive recreational basketball league currently hosts more than 4,000 players on 430 teams at 54 Life Time destinations.
For Junius Ho, a self-described "hoops junkie," the lure of playing Ultimate Hoops factored into his decision to move across country.
"I'd heard about Ultimate Hoops from a good friend before I moved out to Minnesota," Ho says. "This was a few years ago and even back then the website was first-rate and I was extremely envious of the basketball opportunity." At the time he played in various adult leagues in the Bay Area, as well as tournaments throughout the country, after playing in high school and intramural basketball in college.
"Being able to play Ultimate Hoops was one of the main things that attracted me to leave California for Minneapolis," says Ho, who plays on two Ultimate Hoops teams. "Basketball is my main source of exercise and was a huge part of helping me get through my first Minnesota winter."
According to the Sporting Goods Manufacturer Association, more than 35 million Americans play basketball, but only a small fraction of those play in the pros and college. The rest just love the game. For those who love the game enough to want a professional experience, there's Ultimate Hoops.
Markus Williams, who played high school basketball until he graduated last year is glad he can keep his game going at the Warrenville, Ill., Life Time. "Ultimate Hoops is the reason I got a Life Time membership," he says. "I came as a guest a few times and watched some of the games and saw how competitive they were. I knew I had to get in this."