In need of a basketball game?
6/25/2011, 9:09 a.m.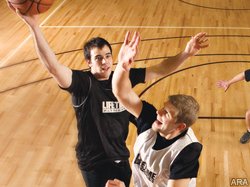 Although the lack of a female team didn't stop Shannon Duggan from signing up for Ultimate Hoops. This 5-foot 4-inch point guard plays on a male team at the Old Orchard Life Time in Skokie, Ill. "They underestimate you until you start shooting threes," she says of the guys she plays against. Duggan, who played high school basketball and a year in college tried out for the WNBA this spring. Although she didn't make a team she says Ultimate Hoops is filling the void.
"It's good competition," says Duggan, who also plays pickup games and admits she likes being the only woman on the court. She said she'll try out for the WNBA again when they are looking for point guards, otherwise she has no qualms playing with the guys. And when the time comes for a woman's league in the Chicago area she said she'll play in both.
While players like Ho and Duggan think of basketball as their go-to activity, they take advantage of the cross-training opportunities at Life Time. "I've used the weight room and participated in Vinyasa yoga classes," Ho says. "I also recently picked up a racquetball racquet with my LT Bucks so I look forward to starting that up." Duggan credits Life Time's Team Boot Camp for getting her in shape for the WNBA tryouts.
"It's my all-time favorite," she says. With the exception of basketball, of course. But for Duggan, Ultimate Hoops isn't exercise, it's her passion.