'Creative License' tackles the murky world of sampling in music
6/30/2011, 2:10 p.m.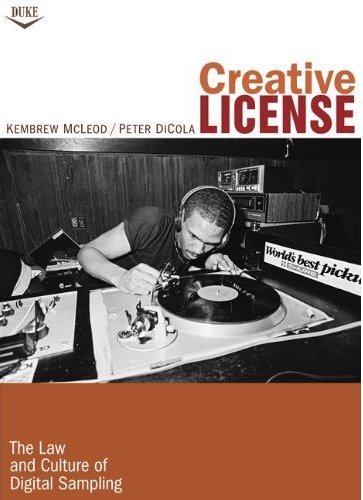 While sampling in music has been around since the mid-20th century, it wasn't until the birth of hip-hop culture and rap music that it became a source of debate. Lawsuits emerged and the debate of sampling as a legitimate musical form dominated mainstream conversations of rap music, but not much of the public discussion has centered on the legal issues around sampling in music.
Kembrew McLeod, associate professor of communication studies at the University of Iowa, and Peter DiCola, assistant professor at Northwestern University School of Law, attempt to get the conversation going with their new book, "Creative License: The Law and Culture of Digital Sampling."
Featuring interviews with hundreds of musicians, managers, industry professionals and lawyers, "Creative License" details, among other things, some landmark lawsuits brought against hip-hop artists by the artists they sampled without permission, how the estate of the legendary delta blues/folk curator Alan Lomax got a songwriting credit on a Jay-Z track, the relationship between Black rap producers and the white rock artists who appropriated from Black R&B singers and the fear independent artists have about taking major labels to court over fair use copyright issues.
In "Creative License," artists, their managers and lawyers from both sides of the sampling divide talk about the cost of making collage-based music and how much power lies in the hands of a dying, major music industry.
Taking the reader through a journey that sees sampling being used by legends like the Beatles and classical music composers, McLeod and DiCola argue that sampling didn't start with hip-hop and the genre shouldn't be its scapegoat, receiving so much unfair treatment on the subject. They also point out that the law has not yet adjusted to recognize creative evolution and that remix culture, for many, is the artist's dominant culture.
From recording artists to studio producers, record labels to composers and songwriters and copyright aggregators to lawyers, each owns a piece of a song that features sampling. McLeod and DiCola point out that it costs less for an artist to cover an entire song outright than to take a three- to five-second sample of the song and use it in a new track. They point out the absurdity of this fact and detail several scenarios and suggestions that they feel would help collage artists and the artists they sample benefit financially from the sampling industry without the current exorbitant fees.
"Creative License" is recommended not just for music geeks or music business geeks, but for anyone interested in law, the arts or both. Well written and treated with care, McLeod and DiCola's work should be read on college campuses around the country.