BIN LADEN DEAD
Herb Boyd | 5/25/2011, 9:23 a.m.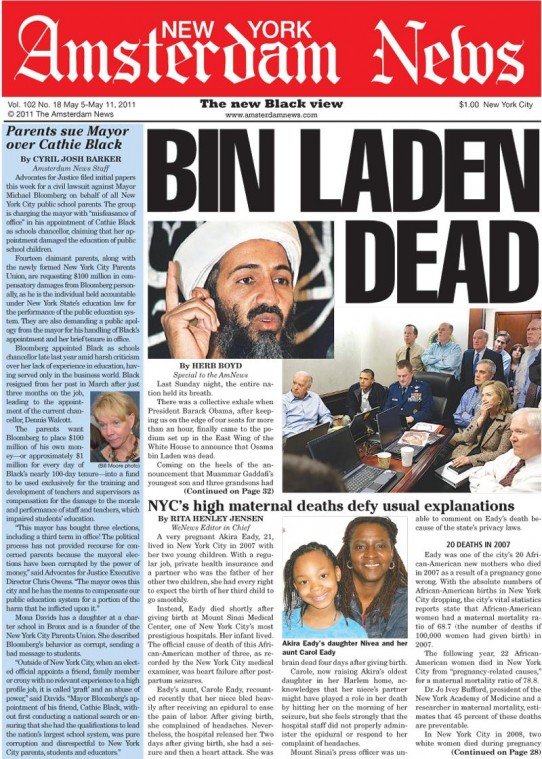 Last Sunday night, the entire nation held its breath.
There was a collective exhale when President Barack Obama, after keeping us on the edge of our seats for more than an hour, finally came to the podium set up in the East Wing of the White House to announce that Osama bin Laden was dead.
Coming on the heels of the announcement that Moammar Gaddafi's youngest son and three grandsons had been killed in Libya just days before, the fact that it was bin Laden who had been killed took many by surprise, though not news the many social networkers who had spread the word minutes before.
It was a May Day alert like none we've had in recent memory, a truly special moment for those who had friends and loved ones among the 3,000 or so people killed during the 9/11 attacks, a tragedy masterminded by bin Laden.
But four days after he was killed by Navy SEALs in Abbottabad, Pakistan, some 35 miles from the capital city of Islamabad, details of the raid on Bin Laden's compound (first reported as a mansion) were still not clear.
The president, Vice President Joe Biden, Secretary of State Hillary Clinton, Brigadier General Marshall B. Webb and other national security team members watched over the weekend as the mission played out in real time. The most recent account, from Leon Panetta, the CIA chief, describes that bin Laden was unarmed at the time and thus had not participated in the early morning firefight as SEALs invaded the compound, killing four occupants, one of whom was bin Laden's son, and wounding two women, including one of bin Laden's wives.
Moreover, it has been clarified that bin Laden did not use his wife as a shield, as was highlighted in the first accounts.
Whether or not the assassination violates United States law under Executive Order 11905, issued by President Gerald Ford in 1976 and upheld by every president since, is an open question. It is legal for the government to try to capture an acknowledged political terrorist, and legal scholars say that, as long as the Navy SEALs were fired upon first, the killing of bin Laden and the others would in fact be legal.
And since bin Laden, who was reportedly shot through the eye, was buried at sea in order to follow Muslim custom and eliminate the possibility of having a shrine for his followers, concerns from some Arab observers have arisen about whether he was actually killed. The Pentagon is still debating whether a photo of his dead body will be released, citing it as too grisly for public consumption.
During his address to the nation, watched by more than 56 million Americans, the president recounted some of the prolonged history that finally led them to bin Laden. He said, "Shortly after taking office, I directed Leon Panetta, the director of the CIA, to make the killing or capture of bin Laden the top priority of our war against al-Qaeda, even as we continued our broader efforts to disrupt, dismantle, and defeat his network.