BIN LADEN DEAD
Herb Boyd | 5/25/2011, 9:23 a.m.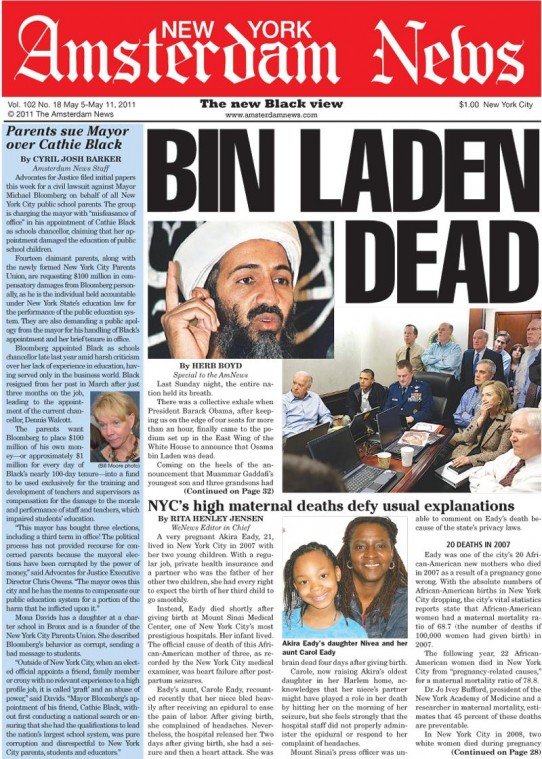 "Then, last August, after years of painstaking work by our intelligence community," Obama continued, "I was briefed on a possible lead to Bin Laden. It was far from certain, and it took many months to run this thread to ground. I met repeatedly with my national security team as we developed more information about the possibility that we had located bin Laden hiding within a compound deep inside of Pakistan.
"And finally, last week," he concluded, "I determined that we had enough intelligence to take action, and authorized an operation to get Osama bin Laden and bring him to justice."
Outside the White House a cheering crowd could be heard as he spoke, some singing the National Anthem, others shouting their praise for the president, hoisting signs of approval and American flags.
Meanwhile, thousands of students assembled in Pakistan, denouncing the killing and shouting angry slogans about the USA and Obama. Several commentators questioned the legality of the raid under international law, which was done without the consent of the Pakistani government. Others questioned the mission's code name, "Geronimo," which reminds many Native Americans of their near-extermination.
But for every protester in the streets of Pakistan--and many are puzzled at how bin Laden could have lived for so long undetected within a stone's throw of a major military installation--there were millions of Americans who were overjoyed. Even those Republicans who have been critical of Obama's foreign policy found it impossible not to congratulate him.
"I give the president full credit for this--it took a lot of guts," said House Homeland Security Committee Chairman Peter King (R-NY). King's district was home to dozens of New York City firefighters and cops killed in the attack on the World Trade Center. "He's the commander-in-chief, he was the guy who put it on the line. There was no guarantee--none--that this would work. We could have had our helicopters shot down...It was a really delicate operation."
He was referring to the botched raid on Somalia in 1993, the ill-fated "Blackhawk Down" event, and the humiliation of the American soldiers who were dragged through the streets of the East African nation.
But King also took the opportunity to inject some of his own political ideology into the moment by observing that critical information that led CIA agents to one of bin Laden's main couriers was obtained from water-boarding detainees at Guantanamo Bay. The facility still holds more than 170 "enemy combatants" years after Obama made its closure one of his key policy promises.
Author/activist Jeremy Scahill, appearing on MSNBC, dismissed the suggestion, saying that the information was obtained long after charges of torture were made during the Bush administration.
"On behalf of the citizens of Lower Manhattan, I commend President Obama and the administration for their commitment to keeping the promise made to us on September 11, 2001," said Assembly Speaker Sheldon Silver in a press release. "We salute the courageous men and women of our armed services who have sacrificed so much to bring bin Laden to justice and who continue to fight terrorism around the world. Although this face of terrorism has been relegated to the pages of history, we cannot let down our guard. Our resolve to eradicate terrorism--root and branch--must remain firm."