Mumia's new lifeline
Herb Boyd | 5/25/2011, 9:24 a.m.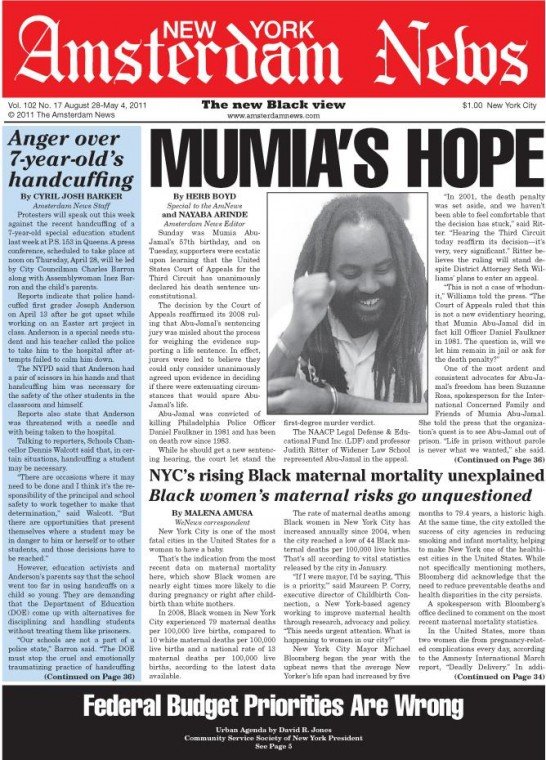 Sunday was Mumia Abu-Jamal's 57th birthday, and on Tuesday, supporters were ecstatic upon learning that the United States Court of Appeals for the Third Circuit has unanimously declared his death sentence unconstitutional.
The decision by the Court of Appeals reaffirmed its 2008 ruling that Abu-Jamal's sentencing jury was misled about the process for weighing the evidence supporting a life sentence. In effect, jurors were led to believe they could only consider unanimously agreed upon evidence in deciding if there were extenuating circumstances that would spare Abu-Jamal's life.
Abu-Jamal was convicted of killing Philadelphia Police Officer Daniel Faulkner in 1981 and has been on death row since 1983. While he should get a new sentencing hearing, the court let stand the first-degree murder verdict.
The NAACP Legal Defense & Educational Fund Inc. (LDF) and professor Judith Ritter of Widener Law School represented Abu-Jamal in the appeal.
"In 2001, the death penalty was set aside, and we haven't been able to feel comfortable that the decision has stuck," said Ritter. "Hearing the Third Circuit today reaffirm its decision--it's very, very significant." Ritter believes the ruling will stand despite District Attorney Seth Williams' plans to enter an appeal.
"This is not a case of whodunit," Williams told the press. "The Court of Appeals ruled that this is not a new evidentiary hearing, that Mumia Abu-Jamal did in fact kill Officer Daniel Faulkner in 1981. The question is, will we let him remain in jail or ask for the death penalty?"
One of the most ardent and consistent advocates for Abu-Jamal's freedom has been Suzanne Ross, spokesperson for the International Concerned Family and Friends of Mumia Abu-Jamal. She told the press that the organization's quest is to see Abu-Jamal out of prison. "Life in prison without parole is never what we wanted," she said. "But the looming threat of execution is not something we took lightly."
"This decision marks an important step forward in the struggle to rectify the mistakes of an unfortunate chapter in Pennsylvania history," said John Payton, director-counsel of LDF. "By again acknowledging the existence of a clear constitutional error in Mr. Abu-Jamal's trial, the Court of Appeals restores confidence in the fairness of the criminal justice system and helps to relegate the kind of unfairness that took place in this case to the distant past."
The Court of Appeals found that Abu-Jamal's jury was misled into believing that it could only consider unanimously agreed upon evidence favoring a life verdict. The decision rendered that this instruction violated Mills v. Maryland, a 1988 Supreme Court decision that allows jurors to consider all mitigating evidence favoring a life verdict, whether unanimously agreed upon or not, in order to ensure that death sentences are imposed only after consideration of all relevant evidence.
Ritter noted, "Pennsylvania long ago abandoned the confusing and misleading instructions and verdict slip that were relied on in Mr. Abu-Jamal's trial in order to prevent unfair and unjust death sentences. Courts now use clear and unambiguous language to advise sentencing juries about their ability to consider evidence that favors a life verdict. Mr. Abu-Jamal is entitled to no less constitutional protection."