Mumia's new lifeline
Herb Boyd | 5/25/2011, 9:24 a.m.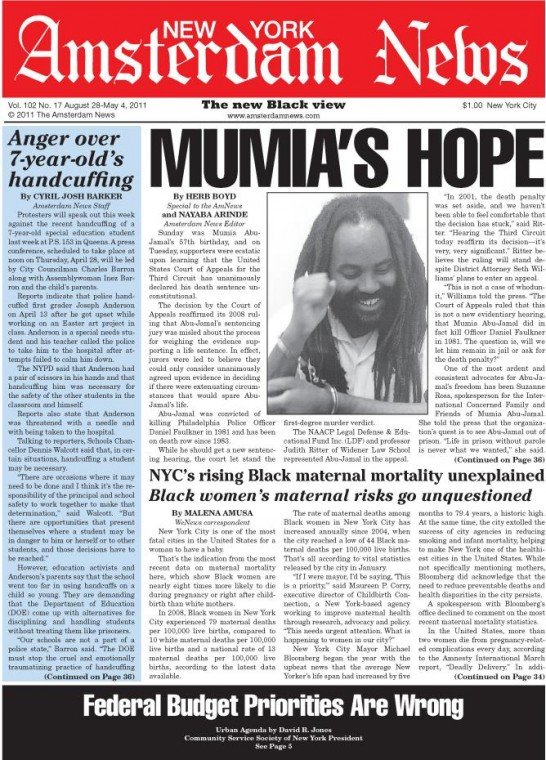 Despite the 2001 ruling, Abu-Jamal remains on death row in Pennsylvania, where he has been for 29 years. He has become the worldwide symbol for the anti-death penalty movement.
Almost since Abu-Jamal's initial sentencing, this case has been the source of international attention. Hundreds of rallies around the world have been held demanding that Abu-Jamal is innocent and deserves a new trial.
It has been a veritable war of attrition, and it's a good bet his supporters will have to be vigilant for months, if not longer, before the case moves on to the next decision by the courts and the district attorney.
Before his conviction, Abu-Jamal was a former member of the Black Panther Party and an award-winning journalist, particularly for his coverage of police brutality. He is widely known as the "Voice for the Voiceless."
At the time of his arrest, he was serving as the president of the Association of Black Journalists. He began his career in journalism reporting professionally on radio stations such as NPR and was the news director of Philadelphia station WHAT. Much of his journalism called attention to the blatant injustice and brutality he watched happen on a daily basis to MOVE, a revolutionary organization that works to protect all forms of life--human, animal, plant--and the Earth as a whole.
"The evidence is clear that Mumia did not kill the officer in 1981. From the very beginning, Philly law enforcement has known this, so while we understand the notion of a victory here with the United States Court of Appeals saying that Mumia's death sentence is unconstitutional, ultimately we want this brother and all our political prisoners free. No question," said Divine Allah, the New Black Panther Party's youth minister. "Too many people have built careers on keeping Mumia incarcerated and that is why freeing him--it would be like a house of cards."