Revival of faith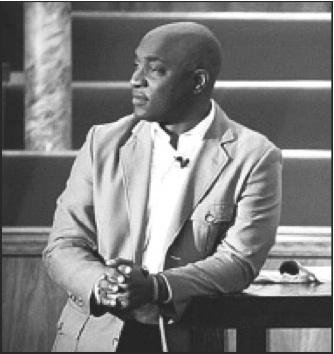 Don't be surprised if you go to First Corinthian Baptist Church on Sunday and see senior pastor Michael Walrond Jr. giving his sermon in a button-down shirt, jeans and a blazer. And as far as him giving his weekly message from behind a pulpit, you can forget that too--he prefers a more conversational approach to educating his congregants on how religion can change their lives.
Changing the face of the church scene in Harlem, First Corinthian is one of the neighborhood's fastest growing places of worship and is attracting a diverse range of parishioners. The church, situated at the intersection of 116th Street and Adam Clayton Powell Boulevard, is having an impact on the community, which is evident by the lines of people waiting to hear Walrond's words on Sundays.
"Most churches acclimate to rituals of the church," Walrond, 39, said. "I'm not in the business to produce carbon-copy Christians."
A native of Roosevelt, Long Island--known more for being the hometown of Eddie Murphy, Dr. J. and Chuck D. than producing famed reverends--Walrond said he didn't have plans to be in the clergy until a revelation he experienced while attending Morehouse College. Acting on his instinct, on graduating from Morehouse he went to Duke University in North Carolina to obtain a master's degree in divinity.
While in North Carolina, at the tender age of 25, he became the senior pastor of Zion Temple United Church. During his tenure at the church, he went from 25 members to 500 members in eight years. Today, he heads up First Corinthian along with his wife, LaKeesha, who is also a minister. They have two teenage children.
Walrond took over First Corinthian, which is in the old RKO Theater used during Harlem's entertainment heyday in the first half of the 20th century, in 2004. The theater was converted to a church in the late 1960s. Walrond is in the process of renovating the entire building with funds from members, and he expects that it will be completed by 2013.
"I had dreams of pastoring in New York City," Walrond said. "One of my heroes is Adam Clayton Powell, and the idea of coming back to Harlem thrilled me. My plan was to shift from the traditional so I gave up traditional robes. God is never concerned about garments we wear for worship. I've seen people dressed well with cold hearts."
Walrond has also taken some other non-traditional approaches to leading his church, including getting rid of church anniversaries, performing baptisms during Sunday morning services and what he calls "improvisational preaching," where he uses no notes during his weekly sermon.
An idea of just how popular First Corinthian has become is obvious from the numbers. In 2009 1,175 people joined the church and in 2010 1,038 joined. Sixty percent of those who came in 2010 came for baptism.
Total membership at the church currently stands at 5,400, with about 3,000 people attending one of the Sunday services on a weekly basis. While First Corinthian caters to churchgoers of all ages, the church is notable for its attraction to young Black professionals ages 21 through 40. Walrond said 10 percent of his congregation is white.