Supporters tell city: 'Compensate the Central Park Jogger 5'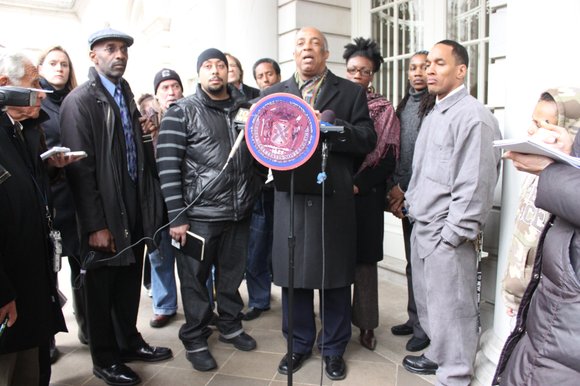 "Now in order to receive some type of civil justice I have to wait. Wait for justice? It's been 8 years! Lead detective Humberto Arroyo said 'The system works.' For real criminals I guess it does! Trump wanted to give us the death penalty, now he wants to be president."
He continued, "It saddens me when a city can brag and call itself 'The Greatest City in the World,' and talk of the American Dream, but when it comes to justice for the Central Park 5, justice for 5 innocent boys who lost their lives because the people who ran the justice system decided to take matters into their own hands--decided to ignore the scales of justice and make us scapegoats and sacrifice our lives so that they could go on to profit and live a wealthy life--it is there that lies the truth, there lie the facts on how far as a people we have truly come.
"Anniversaries are supposed to be joyous occasions, special events, celebrations. Instead my anniversary consists of struggle, hardship, pain and suffering. You gave me all of this in exchange for my childhood, my progress, my life...Wow! Thank you, NYPD, thank you, New York City," Santana said.
"This was an horrific misscarriage of justice which robbed these young brothers of their youth," said Councilman Charles Barron. "In 2002, after having served between 6 and 16 years in jail for this attack, the Central Park 6 [sic] were exonerated when the actual rapist came forward. While April 19 marks the 22nd anniversary of the rape of the Central Park Jogger and this unfortunate crime, the city of New York must do the right thing and compensate these six innocent now adult men and their families for being falsely accused and convicted."
Last year, Barron sponsored Resolution 81 which called for compensation for the young men. Several members of the Black, Latino and Asian Caucus and other council members have co-sponsored this bill. Barron added, "I encourage the entire city council and Speaker Christine Quinn to join in this effort to have the city make arrangements to settle this lawsuit. If the city of New York can settle out of court with a known drug dealer, surely it can compensate six men who lost much of their youth to a false accusation."
The mayor's office told the AmNews that, "since this is ongoing litigation," we would have to speak with the Law Department for a comment. Kate O'Brien Ahlers, Media & Communications Director said, "The lawsuit was brought by 15 people (not just five) and includes family members. Their current demand is for a quarter of a billion dollars. Also, while their convictions were vacated, the plaintiffs were not 'cleared' of any of the charges against the Central Park Jogger or the other victims. Having a conviction vacated does not mean they are innocent. It just means they were entitled to a new trial. But because they had already served prison terms, the DA chose not to retry them."