Walcott on education and the Black and Brown community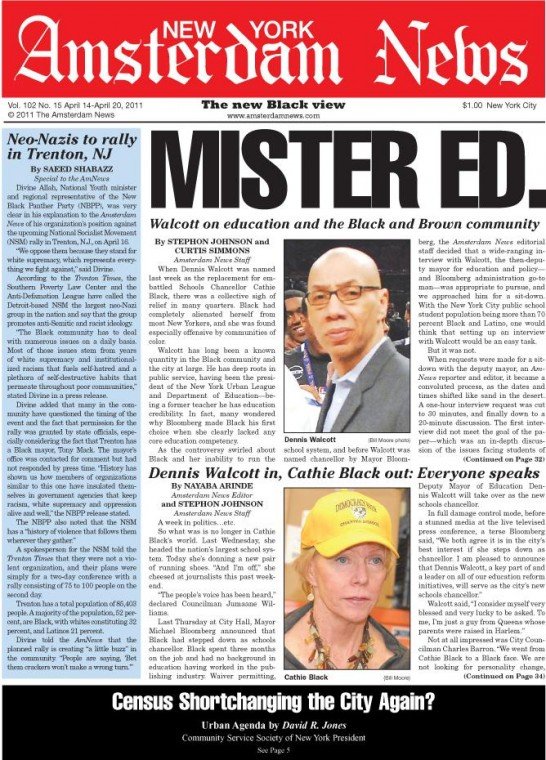 When Dennis Walcott was named last week as the replacement for embattled Schools Chancellor Cathie Black, there was a collective sigh of relief in many quarters. Black had completely alienated herself among most New Yorkers, and she was found especially offensive by communities of color.
Walcott has been a known quantity in the Black community and the city at large. He has deep roots in public service, having been the president of the New York Urban League and Department of Education, being a former teacher he has education credibility. In fact, many wondered why Bloomberg would have made Black his first choice when she clearly lacked any core education competency.
As the controversy swirled about Black and her inability to run the school system, and before Walcott was named chancellor by Mayor Bloomberg, the Amsterdam News editorial staff decided that a wide-ranging interview with Walcott, the then-deputy mayor for education and policy--and Bloomberg administration go-to man--was appropriate to pursue, and we approached him for a sit-down. And with the New York City public school student population being more than 70 percent Black and Latino, one would think that setting up an interview with Walcott would be an easy task.
But it was not.
When requests were made for a sit-down with the deputy mayor, an AmNews reporter and editor, it became a convoluted process, as the dates and times shifted like sand in the desert. A one-hour interview request was cut to 30 minutes, and finally into a 20-minute discussion. The first interview did not meet the goal of the paper--which was an in-depth discussion of the issues facing students of color--so an additional time request was made. After much haranguing, the deputy mayor sat down in the "Queens Room" at City Hall, and discussed in a qualitative way issues facing Black and Latino students.
In recent articles, the AmNews has chronicled the lack of Black and Latino students in the city's specialized high schools. According to InsideSchools.org, the Bronx High School of Science's current ethnicity breakdown is 61 percent Asian, 25 percent white, 8 percent Hispanic and 3 percent Black. Stuyvesant High School's breakdown is 69 percent Asian, 26 percent white, 3 percent Hispanic and 2 percent Black. Brooklyn Technical High School is 59 percent Asian, 21 percent white, 12 percent Black and 8 percent Hispanic.
Each of these high schools accept students based on one test, a process even the most prestigious private colleges do not use in making their determination of its student body. Neither student grades nor teacher recommendations are considered, so the classes at these schools are full of the best test takers. Creativity and other qualities are not considered.
Walcott defended the selection process and explained to the AmNews what the Bloomberg administration has done to try and increase the anemic number of Blacks and Latinos in specialized high schools.
"We have put in a significant effort to try and increase the number of students of color in specialized high schools," said Walcott. "Around six or seven years ago we started a special institute that focused specifically on students of color, to identify them in an early grade and then have them [placed] in rigorous course training and have them train to take the test. We were sued. [We were told] it was basically discriminatory to have this type of program, so we had to open up the program itself so now it's a broader type of program."