Walcott on education and the Black and Brown community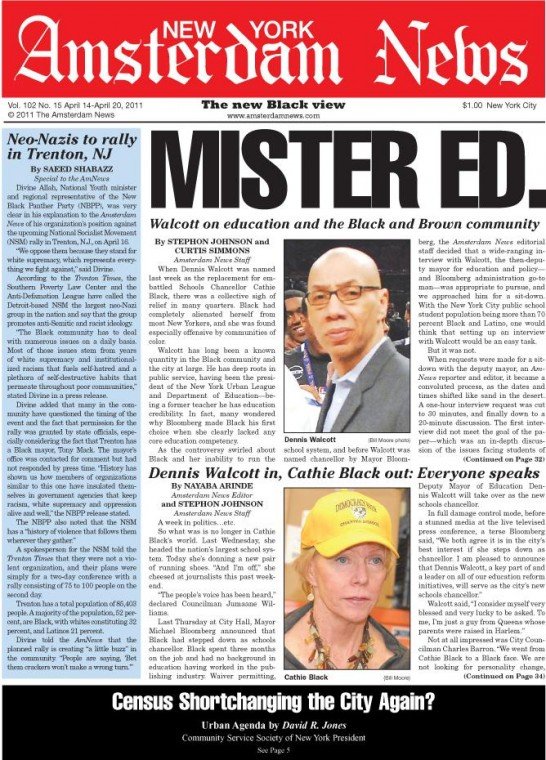 Walcott wants the city to partner more with communities of color to help reduce the gap. "I think part of what we're doing from a government perspective, as well as working with the community, is making sure that we have universal pre-K programs available to our students," said Walcott. He also mentioned the DOE programs ARIS and ARIS Parent Link, where parents can find information regarding their child's attendance record, assessments, state test results, report card grades, unofficial transcripts, high school graduation requirements and activities they can do at home to improve their child's academic achievement.
And while Walcott does acknowledge the city government's role in reducing educational gaps, he put even more responsibility on the community. "I think that's not just a government responsibility, but a community responsibility."
The DOE's most recent numbers (from the year 2009) are in no way inspiring for Blacks and Latinos. The graduation rate from New York City schools for Blacks is 57.8 percent, with a 12 percent dropout rate. Hispanic students had a 55.9 percent graduation rate and a 15 percent dropout rate. Conversely, for whites, the numbers were 76.5 percent and 8.4 percent respectively, and for Asians, the rates were 80.1 percent and 5.9 percent. And even these less than satisfactory numbers are being questioned by State Comptroller Thomas DiNapoli.
In a recent audit, DiNapoli identified what he thought were discrepancies in the dropout rates reported for the DOE from 2004 to 2008. According to DiNapoli's auditors, for the 2004 through 2008 school years, the dropout rate may have been as high as 16.5 percent. The DOE's numbers for the same period were 13 percent. As a result, the audit claims that the graduation rate may have been 62.9 percent, instead of the reported 65.5 percent, for all students.
Student achievement, graduation gaps and access to the best city schools are just at the forefront of the issues of concern for Blacks and Latinos. These two groups often share communities and schools, and are looking for the same type of opportunities afforded white and Asian students throughout the city.
However, the education system is further complicated by the fact that the Bloomberg administration is also talking about laying off teachers as well.
And as is often the case, it won't be the Stuyvesants or Bronx Sciences that are most likely to see the worst cuts, but the schools servicing Black and Brown students. The teachers union sees this as an attack on them. Walcott claims that the administration is not attacking teachers, but is trying to do what is best for the children of New York City.
"It's not an attack on unions, but at the same time, it's an issue where we want the best teacher in the class teaching our children," said Walcott, making a statement that for many would seem to be him simply parroting the administration's party line.
And so we will have to wait and see how well Walcott does as schools chancellor. For some there is no downside--he could do no worse than Black--but to many his nine years as a deputy mayor to Bloomberg were a deep disappointment. And as one observer said, "This helps to rescue his reputation as a do-nothing."