Cuba's Los Munequitos de Matanzas captivates Symphony Space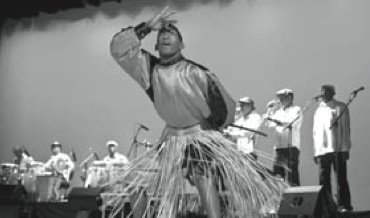 The program further expounded on the rites of the invocation: "It is the dance of the ancestors, the passion for life
even from the bowels of death. It is the passion which leads us back to the spirit of the dead fused with the Orishas, summoned by the drums and bells to join us all in procession. We remember to give homage through the moyuba, to the eternal dances of rumba."
One of three griots wearing white, rubber-soled shoes who opened the show told the audience: "I've been chasing that rhythm from my father."
Another shared: "The drums will possess you and make you possessed." And that they did.
As Los Munequitos de Matanzas' "Drum of Fire" took over Symphony Space, audience members released all inhibition and rushed for the stage, where they were trans- ported to a higher sphere. Here, in this powerful world of the ancestors, the conga is the heartbeat, and the soul runs free.
Next week in Part 2 of this article, Caribbean Lingo looks at the history of Los Munequitos de Matanzas and the Cuban Rumba.
Caribbean Lingo pays tribute to Caribbean Diaspora artists and art forms of the high- est caliber. To contact us, please email icadRSVP@aol.com.