Led by LeBron, Heat shuts down the Bulls' one-man offensive team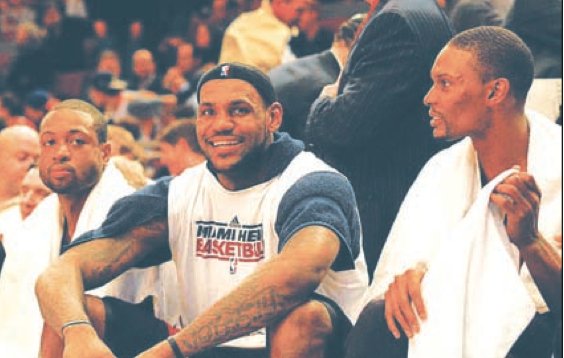 The Chicago Bulls are about to be eliminated from the Eastern Conference finals by the Miami Heat because of their one prevailing flaw: They are essentially a one-man offensive team. Derrick Rose. Period!
That is why the Heat will swagger into the United Center in Chicago tonight (Thursday) for Game 5 of the bestof-seven series up 3-1. If the Heat doesn't wish the Bulls bon voyage later this evening, they will almost certainly do so on Saturday night at the conclusion of Game 6 in Miami. Inevitably, the Bulls will be heading off for summer vacation while the Heat moves on to the NBA Finals.
The sensational Rose, the 2010-11 NBA MVP, has taken it upon himself to shoulder the offensive load for the Bulls. At times he has forced difficult shots and committed unforced turnovers as a result of the Bulls lacking another creator. The 22-year-old Rose is their lone facilitator, the only player who can manufacture easy baskets for himself and his teammates. Far too often Rose has found himself on the court with four teammates who are essentially self-checked. This has given the Heat's collective defense the appearance of being even better than they are.
Let's be clear, the Heat has an excellent defensive group led by LeBron James, the second most imposing defender in basketball behind Dwight Howard of the Orlando Magic. James can capably guard four positions; in some instances all five. Dwyane Wade, Chris Bosh, Joel Anthony (shot blocker supreme) and Lionel Chalmers are all outstanding defenders.
Meanwhile, the Bulls' offensive limitations have allowed the Heat to persistently surround Rose and shut down the driving lanes. When he does get into the paint and kicks the ball out to the Bulls' perimeter shooters, most notably starting two-guard Keith Bogans and reserve Kyle Korver, they have failed to reliably convert Rose's passes into assists.
The Bulls' second best offensive threat, Luol Deng, is primarily a jump shooter who infrequently goes hard to the basket. Thus, the Bulls have not found their way to the foul line nearly enough to offset their struggles scoring out of half-court sets. Here is the closing argument: In Game 4 on Tuesday in Miami, the Heat was plus16 in attempts and plus-15 in makes from the foul line. In 67 minutes combined, Deng and Bogans were only a startling 2-2 from the line. James was 13-13.
Game over, series over!