MoMA honors 'Filmmaker in Focus: Euzhan Palcy'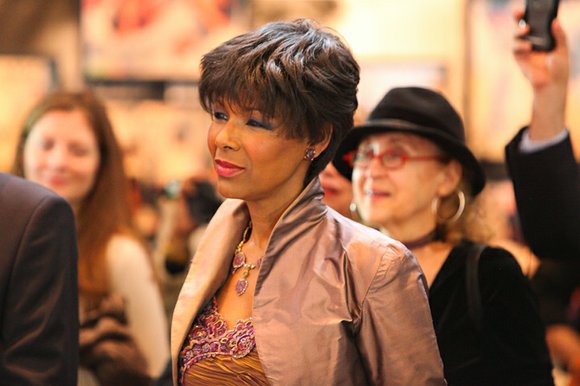 "She is talented. She is intellectual. She is incredibly articulate. She is a very beautiful woman and she has the sophistication. She understands-really understands how to work with people, and I think she sees into these stories, the souls of her characters...the characters are so fully drawn," said Anne Morra, associate curator in the Department of Film at the Museum of Modern Art (MoMA).
Morra was referring to the dynamic subject of MoMA's current program, "Filmmaker in Focus: Euzhan Palcy." Organized by Ronald S. Magliozzi, assistant curator, and Morra, the lauded exhibition opened on May 18 and runs through May 30 at MoMA's Roy and Niuta Titus Theatre 2 at 11 W. 53rd St. in New York City.
"She has all these remarkable qualities," Morra said about Palcy, a Cesar Award-winning filmmaker who was born in Martinique, resides in Paris and makes films globally. "She is the kind of filmmaker with the kind of films that we are interested in at MoMA, and right now we view her within the context of the "Filmmaker in Focus" exhibition, which is really a mid-career retrospective, and we see this unfolding body of work."
Palcy's evolutionary filmography, which spans three decades, includes features, documentaries and television films. Among them are the ground-breaking "Sugar Cane Alley" (1983, France, Martinique, 103 min.), "A Dry White Season" (1989, USA, 97 min.), set in South Africa, "Simeon" (1992, France/Martinique, 106 min.), "Aime Cesaire: A Voice for History" (1994, France, Senegal, ), "Ruby Bridges" (1998, USA, 90 min.), "The Killing Yard" (2001, USA, 110 min.), "Parcours de Dissidents" (2006, France) and "Les Mariees de L'Isle Bourbon" (2007, France, 90 min.)
Noting the various technologies Palcy utilizes in her craft, Morra pointed out: "She is working in digital and television. She is finding these new ways of telling her story and getting the material out there, and she is not dogmatic in saying, 'I have to make 35 millimeter films.' She is telling great stories and finding the right audiences.
Morra's introduction to Palcy's work began with "Sugar Cane Alley." She recalled, "I remember seeing it when it first came out. At first I didn't know if Euzhan was a man or a woman, but I don't think it was something I really spent time searching for. I was just very taken by how she brought the world of Martinique and the community in Martinique to the screen."
Through Palcy's film, Morra learned a lot about this unfamiliar world. "It was a story I knew very little about in terms of their communities in the Caribbean islands and how, basically, the people were enslaved by being brought to the islands. Then the second wave of enslaving, which is, 'Do we work and do we stay here or do we leave our home and move on somewhere else?'" Morra was struck by the original way in which Palcy's narrative unfolded.
When Morra learned about Palcy's next film she was intrigued. "I said, 'Oh, this is the same person that made "Sugar Cane Alley."' That is when I really took the time to find out who she was and learned at that point that Euzhan Palcy is a woman." This amazed Morra. "Traditionally we think of women's films, but obviously if you are a good artist, which she is, you can tell any good story and that's something that always made me look for her work."