Haitian Born Altino Brothers Return to Riverside for Mega Christmas Concert
11/2/2011, 1:38 p.m.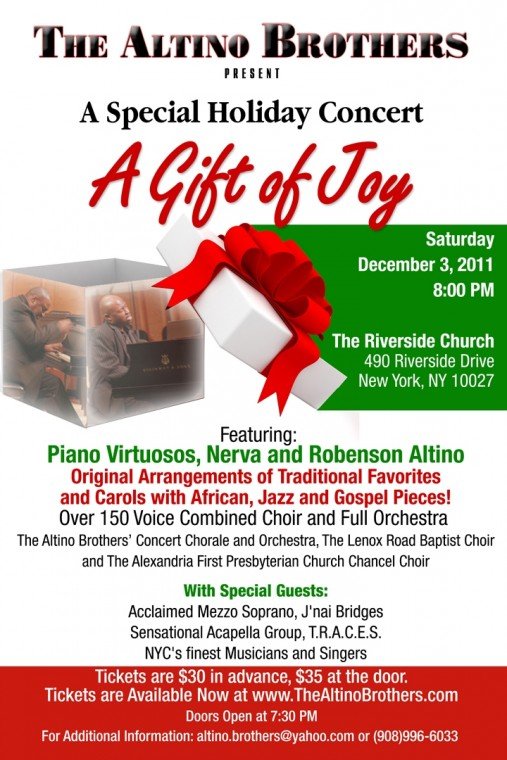 Altino Brothers Present Mega Christmas Concert at The Riverside Church
On Saturday, December 3, 2011 at 8:00 PM, Haition born piano virtuosos, the Altino Brothers will present a special Holiday Concert, "A Gift of Joy" at the beautiful, historic Riverside Church in NYC. The concert will include a 150+ voice combined choir made up of The Altino Brothers' Chorale, Lenox Road Baptist Church Choir and the Alexandria First Presbyterian Church Chancel Choir, a full orchestra, the award-winning A cappella group T.R.A.C.E.S, some of the finest soloists in NYC featuring acclaimed Mezzo Soprano, J'nai Bridges and of course, the wonderful Altino Brothers ! Nerva will perform on the piano and organ and Robenson will conduct as well as perform on piano. The concert will feature original arrangements of traditional favorites and Christmas carols with jazz, gospel and African pieces. Tickets are $30 in advance and $35 at the door. Visit www.TheAltinoBrothers.com or email Altino.brothers@yahoo for more information.