Prize winning novelist turns down national prize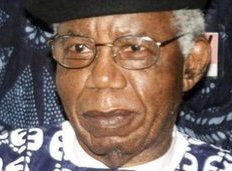 Nov. 15 (GIN) - World-acclaimed Nigerian novelist and professor, Chinua Achebe, has for the second time turned down the Commander of The Federal Republic award, Nigeria's second highest honor. The move stunned President Goodluck Jonathan called the decision "regrettable."
Author of the globally popular novel, Things Fall Apart, Achebe said," the reasons for rejecting the offer when it was first made have not been addressed let alone solved. .. A small clique of renegades... (is) determined to turn my homeland into a bankrupt and lawless fiefdom."
Achebe continued: "I had a strong belief that we would outgrow our shortcomings under leaders committed to uniting our diverse peoples... Nigeria's condition today under your watch is, however, too dangerous for silence. I must register my disappointment and protest by declining to accept the high honor..."
Achebe, winner of the Man Booker International prize in 2007 for "inaugurat[ing] the modern African novel", currently lives in the US, where he is professor of Africana studies at Brown University.
The Achebe story prompted a cascade of online comments in his support. Writing in The Guardian of London, "Ogonnaya" penned: "I respect the man Prof. Chinua Achebe, who turned down such 'honor'. What a man of integrity. I doff my hat for him. How I wish we have more of such men who are ready to sacrifice their selfish interest for national progress."