Feet of Kenyan runner amputated after mishap in Alaskan Blizzard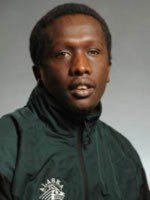 Nov. 22 (GIN) -In a bizarre incident, a champion Kenyan runner lost both his feet to frostbite after being stranded in a blizzard for two days.
Cross country runner and student at the University of Alaska, Anchorage, Marko Chesto Lemtukei, 28, was discovered in minus zero temperature by workers at nearby hotel. Athletic director Steve Cobb said to the Anchorage Daily News, "he was running on a trail at one point, I know that."
A Kenyan national from Kapenguria, Chesto joined the school's cross-country running team in 2008. The University has been home to many athletes from Kapenguria .
A student of nursing with top scores, Chesto had been wearing only a light coat, sneakers and no gloves when he disappeared.
It was speculated that Chesto suffered a personal crisis after a team-mate's suicide earlier in the year.
Due to the severity of the frostbite on Chesto's hands and feet, his shoes were stuck to his skin. A week after being admitted to the hospital, his feet were amputated on Thursday.
In a statement posted on the school website, Chesto wrote: "While I am still recovering - both physically and emotionally - I will do my very best to give back to the community that has helped me so much and to my home country, Kenya."